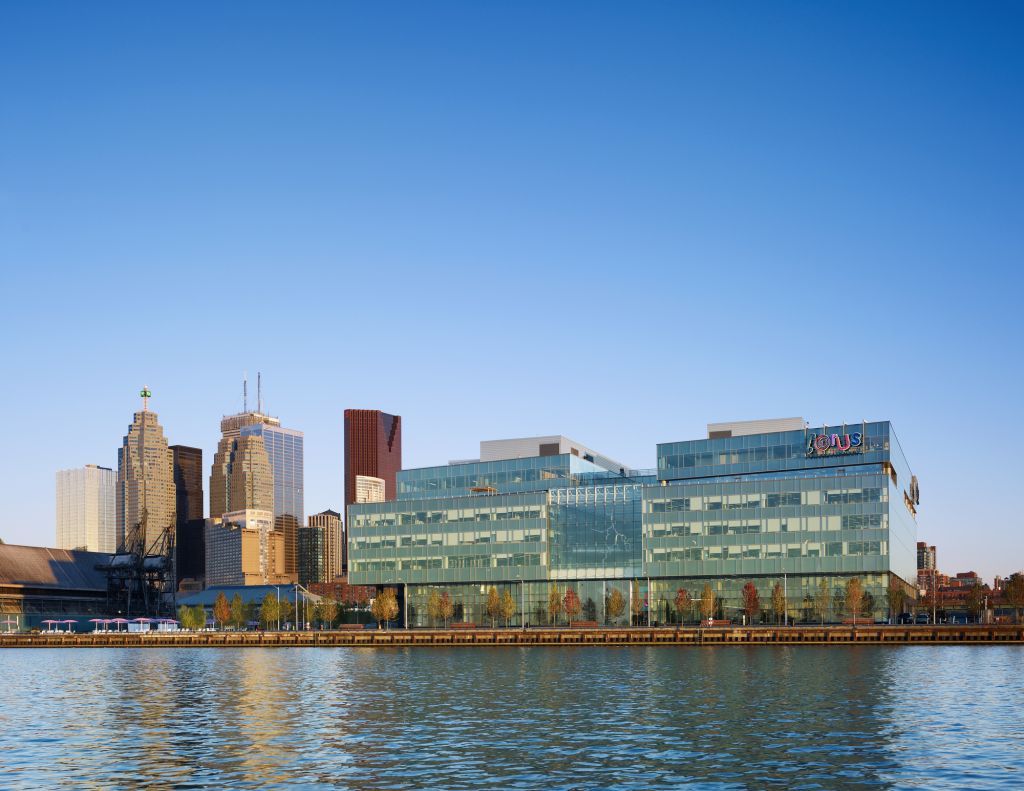 By Richard Witt, BES, B.Arch., OAA, MRAIC, LEED AP, and Michelle Xuereb, BES, B.Arch., OAA, LEED AP
A comprehensive master plan creates a well-defined and detailed framework for the development of a large site. As Canadian cities develop, intensify, and expand, it is becoming an increasingly common investment made by both private developers and municipal authorities. The master plan is a growing area of specialty, and one filled with opportunity for sustainable impact.
In recent years, the design and development community has become more cognizant of the importance of sustainable design, but that consciousness has been largely limited to isolated elements, such as buildings. Now, an emerging movement is occurring—applying sustainable design practices at a much larger scale to an overall neighbourhood plan, resulting in the creation of sustainable communities through extensive master planning.
Addressing only isolated elements will not provide the necessary response to current environmental challenges. It is becoming apparent the key to a sustainable future lies in a holistic interlinking of elements within a larger site context. Indeed, design at this larger scale is essential. A master plan has the ability to leverage scale and provide a framework for higher quality of life and future anticipation of the relationship with infrastructure.
Understanding and identifying this significant opportunity has recently been the catalyst for a growing number of sustainable communities. This article examines two of them—one outside and one within the urban centres of Toronto—East Bayfront and Downtown Markham, respectively under development by Waterfront Toronto and the Remington Group.
Design considerations
When establishing a community, there are various reasons for site selection that are often complicated and multi-faceted. Proximity and connectivity are both important, but there are numerous other factors coming into play, many of which have an economic impact on project viability. Careful consideration is required—the location of new community and how it connects to its surrounding communities can have one of the biggest impacts on its carbon footprint.
Once a community has been successfully located, the layout and content determined by the master plan becomes vital to what will be built and where. A sustainable community includes various building uses in close proximity. While residences are important, the ability for people to work, play, and live in the same area not only increases quality of life, but can also raise property values.
Commercial office spaces, restaurants, shops, and hospitality create a mixed-use architectural dynamic. Walkability is imperative when designing a streetscape that considers the needs of the community. The quality of streets, pedestrian connections to public spaces, greenery, and access to public transit all encourage residents to avoid vehicular use. Reduced parking can be augmented by a strong bicycle infrastructure, adding to the community's health and sustainability.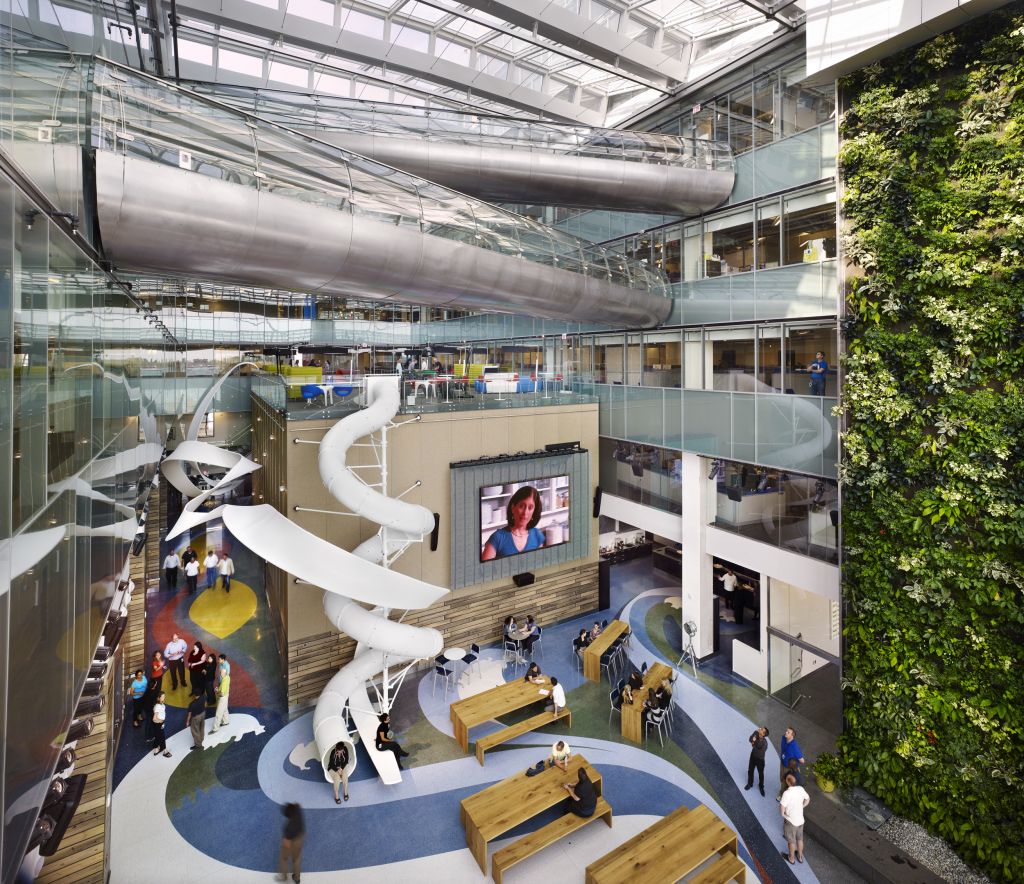 After these components are established, buildings and specific infrastructure can begin to make an effective influence. New buildings should be designed with strong consideration of their sustainable impact and of any existing elements. However, existing buildings should not be simply razed with 'greener' structures rebuilt in their place—the embodied carbon in that process would not be compensated for any savings in a newer building. Instead, repurposing or reusing should be priorities.
Infrastructure also plays a strong role in a sustainable community. Elements such as stormwater and wastewater management, or garbage and recycling collection, are all necessary and, in many cases, they can form features as well as efficient, more discreet roles. For example, a water-overflow tank could become a feature pond, rather than taking up a parking space in an underground level. It allows more water to evaporate or be absorbed by the ground.
One way of codifying and evaluating the sustainable quality of large-scale developments is via the Canada Green Building Council (CaGBC). In 2009, the U.S. Green Building Council (USGBC) developed and, the following year, implemented the Leadership in Energy and Environmental Design (LEED) Neighborhood Development (ND) rating system to define and measure the sustainable building industry. CaGBC partnered with its U.S. counterpart in 2011 to authorize an alternative compliance document specific to Canadian standards.
The rating system is based on principles of smart growth, New Urbanism (i.e. walkable neighbourhoods with a range of housing and job types), green infrastructure, and sustainable building design. It is a tool to develop a standard of assessment for green neighbourhoods and to promote the development typology.
LEED ND creates a set of guidelines for decision-making and development. The five evaluation categories forming the program are:
Smart Location and Linkage (SLL), which includes credits for floodplain avoidance and brownfield redevelopment;
Neighbourhood Pattern and Design (NPD), which includes credits for compact development and reduced parking footprint;
Green Infrastructure and Buildings (GIB), which includes credits for certified green buildings and heat island reduction;
Innovation and Design Process (IDP), which offers points for innovative and exemplary performance above the requirements set by the LEED ND process; and
Regional Priority Credit (RPC). (However, this category is geographically specific to USGBC, and is unavailable in Canada.)
Being conscious of its use and the commercial framework in which it operates, LEED ND has three stages of certification relating to phases of the real estate development process:
Stage 1−Conditionally Approved Plan: available for projects before they have received planning approval, and/or passed through the public review process in the hope it might help with approvals;
Stage 2−Pre-Certified Plan: eligible to fully entitled projects or projects under construction with the hope certification might help with financing, permitting, and/or attracting tenants; and
Stage 3−Certified Neighbourhood Development: formal recognition the project has achieved all of the pre-requisites and credits attempted.
Municipalities setting a framework
Waterfront Toronto's Minimum Green Building Requirements (MGBR) is part of the city's waterfront revitalization plan. Although MGBR is not an actual bylaw, it is being implemented as an obligation contained within the consultant contracts. The goal is to create communities with green buildings and neighbourhoods among the most environmentally sustainable in the world. Part of the plan is to build one of the continent's largest revitalization plans, reconnecting the people of Toronto with the waterfront.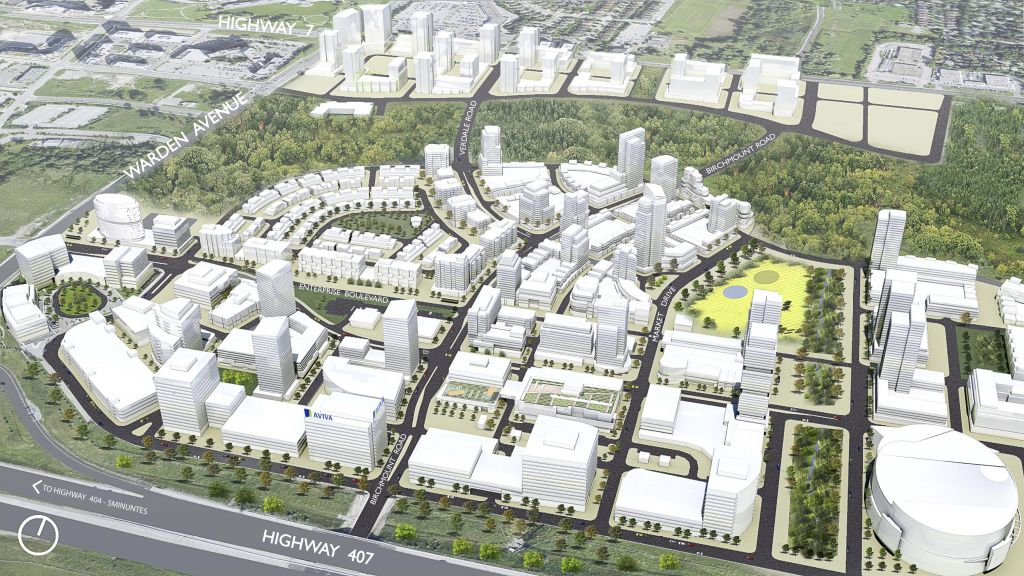 These areas include the East Bayfront, one of the first new neighbourhoods to be developed. This site extends from Lower Jarvis to Parliament Streets, along Lake Shore Boulevard West. Already achieving Stage 1 LEED ND Gold Certification, the East Bayfront has set a standard for sustainable neighbourhoods in the urban centre. Proposed plans include integrating parks and public spaces that connect to the lakeshore, contributing to many of the NPD requirements.
Waterfront Toronto is leading the development of clean-water technology in Ontario by constructing an innovative stormwater management system at East Bayfront that is integrated into the design of the area's public realm. This functional machinery becomes an esthetic part of the waterfront, concealed in a park, and enabling cost savings due to the multiple functions of infrastructure (e.g. public space, waste and water management [GIB credit], and reduced pipe lengths) while enabling clean water to be discharged back into Lake Ontario.
The district energy system feeding the building is housed in a section of the adjacent George Brown College underground parking garage. The District Energy Plants were designed to accommodate 'co-generation' in the future. This refers to a thermodynamically efficient use of fuel that simultaneously uses an engine to generate useful heat and electricity, and sometimes cooling as well.
Quadrangle was the recipient of a United Nations World Habitat Award in 1996 for a project called Tatry and Pathway Non-profit Housing, which used a tri-generation system. Nonetheless, these setups still remain relatively underused and so would be considered eligible for an IDP credit.
The East Bayfront is also home to Corus Quay, headquarters for content media company, Corus Entertainment. The core building, designed by Diamond Schmitt Architects, is LEED Gold Certified for Core and Shell (C&S), and the Quadrangle-designed interior is targeting LEED Gold for Commercial Interiors (CI).
The nature of the project required extensive consideration for how to save energy in an environment that operates 24-7 in an energy-intensive manner. The solution to this unavoidable problem was to enable energy literacy through metering, benchmarking, and monitoring performance. The Corus design provided an environment focused on employee wellness; it is a place that inspires its creative staff, and is full of light and long views to highlight occupant comfort, health, and safety. The project was also inspired by Waterfront Toronto's plan to create or reinforce a public realm along the water's edge. Sugar Beach, a manmade beach directly connected to the Corus facilities, opens up the space.
Corus is not the only sustainable project that is a part of an East Bayfront sustainable community. Great Gulf retained design architect Moshie Safie—of Montréal's Habitat '67 fame—with Quadrangle acting as the executive architect in collaboration to develop Monde Condominiums. Targeting LEED Gold under the traditional New Construction program, the condos contribute to the emerging East Bayfront neighbourhood in line with the master plan. The building's orientation is enhanced by its relationship to the waterfront, and its north and south positioning allows natural light to penetrate deep into the building. The development is a community-centric mixed-used development with residential, retail, and office space.
As part of creating a sustainable waterfront community, Waterfront Toronto requires all developers to create a public space on the ground floor of a project. Opening up to the adjacent, award-winning, Sherbourne Commons park (designed by landscape architects Phillips Farevaag Smallenberg), public spaces are extended through the community to enhance connectivity with Monde and the rest of the East Bayfront neighbourhood.
Sustainable communities outside urban centres
The development of the comprehensive Downtown Markham master plan within the City of Markham sets a new precedent for sustainable communities in the Greater Toronto Area (GTA). Unlike Waterfront Toronto, the development was driven by a private developer, the Remington Group. Behind this project is an urban planning approach called 'smart growth,' which promotes expansion in a city's centre to combat urban sprawl. The idea is a long-term vision that considers an integrated methodology as opposed planning in a series of quick fixes. This approach fosters community growth through comprehensive, mixed-use planning.
Looking to create a vibrant, pedestrian, and public-transit-oriented major urban community, Quadrangle developed the master plan for the 100-ha (250-acre) greenfield site south of Markham Town Centre. Quadrangle was also commissioned to design the first five blocks of multi-residential and mixed-used buildings that establish an architectural vocabulary within the plan—one defining the community's street-oriented character. The focus of the public realm plan for the Toronto suburb was driven by a vision for a European-style urban form that gives pedestrians and transit prominence over vehicles. The site is bound by a linear park. The developer wanted to create urban forms, spaces, pedestrian connections, view corridors, architectural variety, and complementary massing.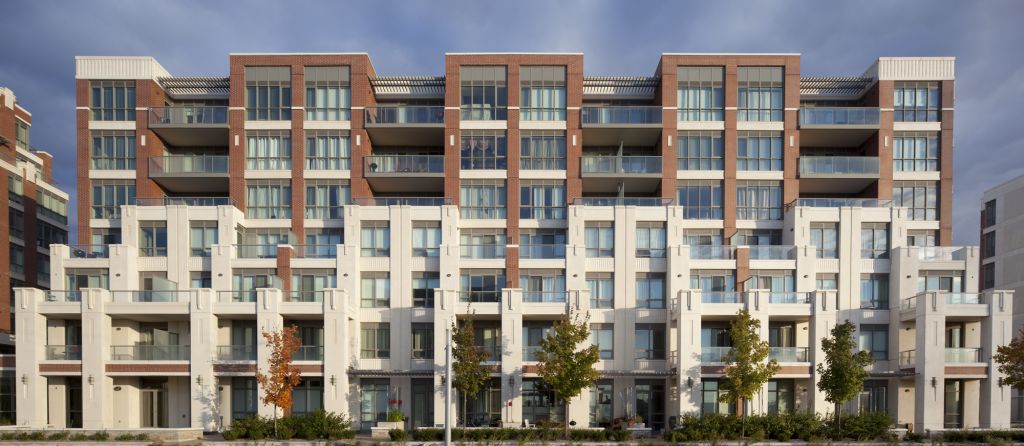 The Rouge Bijou complex was the first phase of buildings to be completed within the Downtown Markham master plan. Its streetscape incorporates urban features, such as continuous street frontages and a linear urban park. There is easy access to stores and offices, highlighting the move away from an automobile-focused neighbourhood.
A LEED Gold-certified building, Rouge Bijou is connected to Markham District Energy, an energy utility owned by the city of Markham that provides thermal energy for the heating and cooling of buildings at a large scale. With its sustainable building envelope (i.e. well-detailed, with increased insulation and constructed of solid local building materials, including brick) and in-suite energy-recovery ventilators (which precondition intake air by exchanging the energy in the exhaust air), it is estimated to be more than 50 per cent more energy-efficient than a conventional building meeting code standards. Instead of defining the vision for the site, the building emphasizes the overarching plan for the community—one that highlights sustainability and quality of life.
Conclusion
As part of a comprehensive master plan, sustainable building design can make a significant difference. However, by thinking and designing at the scale of a community or neighbourhood, rather than at solely the scale of a building, new opportunities for impact become available. Selecting or refining a site to consider things such as geographical features, topography, existing water bodies, street networks, and connectivity are some of the ways to achieve this.
Planning a community with various housing types and sizes, with a mixture of uses and community facilities, and for all demographics and abilities, lays the foundations for a vibrant and successful neighbourhood. Adding a layer of well-designed buildings, open spaces, parks, and infrastructure that take advantage of the scale creates a comprehensively sustainable community.
Functional, unique, and sustainable plans strategically leverage the scale of the site, and enhance the project's long-term value for both the goals of private developers and needs of the growing municipalities. They leave a legacy of sustainable community with a high quality of life and social cohesion.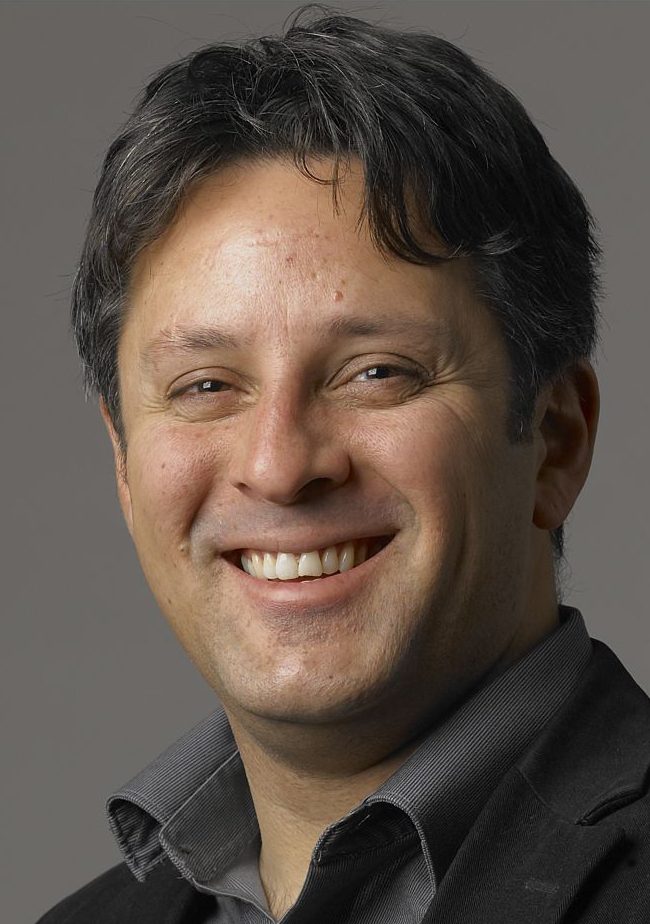 Richard Witt, BES, B.Arch., OAA, MRAIC, LEED AP, is a principal at Quadrangle Architects. He earned bachelor degrees in environmental studies and architecture at the University of Waterloo. Witt has worked at international practices in London, Geneva, and Prague, and specializes in urban intensification, master planning, sustainable design, and adaptive reuse. He is currently sessional faculty at the Institute Without Boundaries, co-chair of the Toronto Society of Architects, and chair and founding member of the Toronto chapter of the Council on Tall Buildings and Urban Habitats (CTBUH). Witt can be reached at rwitt@quadrangle.ca.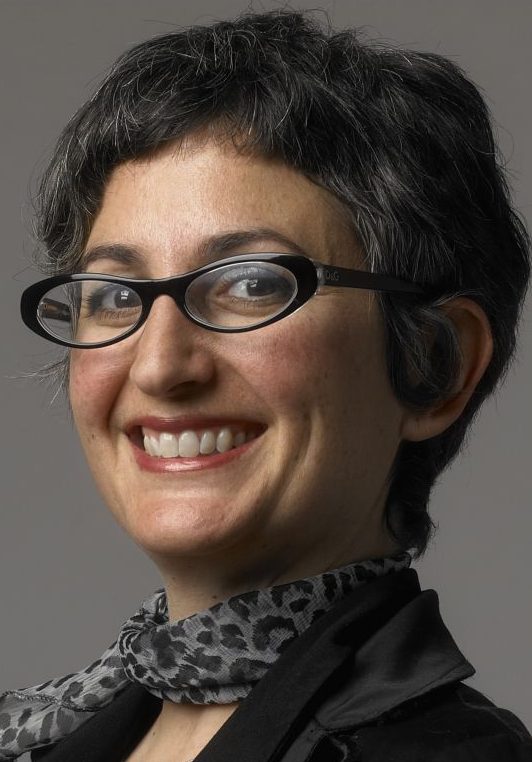 Michelle Xuereb, BES, B.Arch., OAA, LEED AP, is a sustainability strategist and associate at Quadrangle Architects. She earned bachelor degrees in environmental studies and in architecture at the University of Waterloo. Xuereb remains an active member of the Canada Green Building Council (CaGBC), formerly sitting on the GTA Chapter Board of Directors, and renders her expertise in sustainability as a guest lecturer and critic at Ryerson University and the University of Waterloo. She can be reached by email at mxuereb@quadrangle.ca.

Control the content you see on ConstructionCanada.net!
Learn More.