Construction starts for Amazon fulfillment centre in Ottawa
July 7, 2020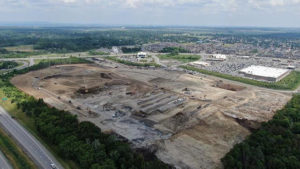 Ground has broken on the newest Amazon[2] fulfillment centre in Canada, set to be completed in 2021. Located within the CitiGate Corporate Business Park in Barrhaven, the new fulfillment centre will be the second in Ottawa.
Construction, development, and real-estate company Broccolini[3]'s experience in fast-paced construction projects will help the project meet an anticipated 14-month construction deadline. Broccolini will hire technical experts from a range of fields to ensure timely project delivery.
"We are excited to once again partner with Amazon and begin construction of a new, technologically advanced fulfillment centre. Following the COVID-19 pandemic, we have trained our employees and set new protocols to ensure workers can do their jobs safely while respecting the latest health guidelines," said James Beach, director of real estate and development at Broccolini in Ottawa.
Once completed, Broccolini will act as landlord and property manager for the new fulfillment centre. This project is Broccolini's fourth partnership with Amazon.
Endnotes:
[Image]: https://www.constructioncanada.net/wp-content/uploads/2020/07/7-7-2020-2-20-34-PM.jpg
Amazon: https://www.aboutamazon.com/
Broccolini: https://www.broccolini.com/en
Source URL: https://www.constructioncanada.net/construction-starts-for-amazon-fulfillment-centre-in-ottawa/
---