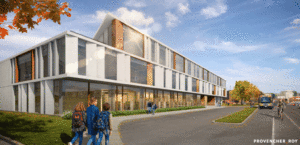 A ceremony was held to announce the imminent construction of the new Giant Steps Autism Centre in Montreal. Excavation work will begin this month, and the doors of the centre will open in summer 2023.
A state-of-the-art building with a surface area of 6178 m2 (66,500 sf) will be placed in the centre of the Technopole Angus district in the city's Rosemont neighbourhood. Furthermore, in collaboration with architectural firm Provencher Roy, the centre was designed to meet the specific sensory and perceptual needs of autistic people—particularly in terms of the organization of spaces, the choice of materials, and the type of lighting.
Following a $15 million investment by the Quebec government, along with contributions from donors within the private sector and the community, 84 per cent of the total fundraising goal has been reached, with more than $7 million left to be raised. As part of the Take a Giant Step for Autism fundraising campaign, the organization is looking to raise the balance in the private sector as well as from the federal government.
The autism centre will offer lifelong services grouped under four main pillars: The Giant Steps school, an adult education and employment Centre, a resource and community centre, and a research and innovation hub.