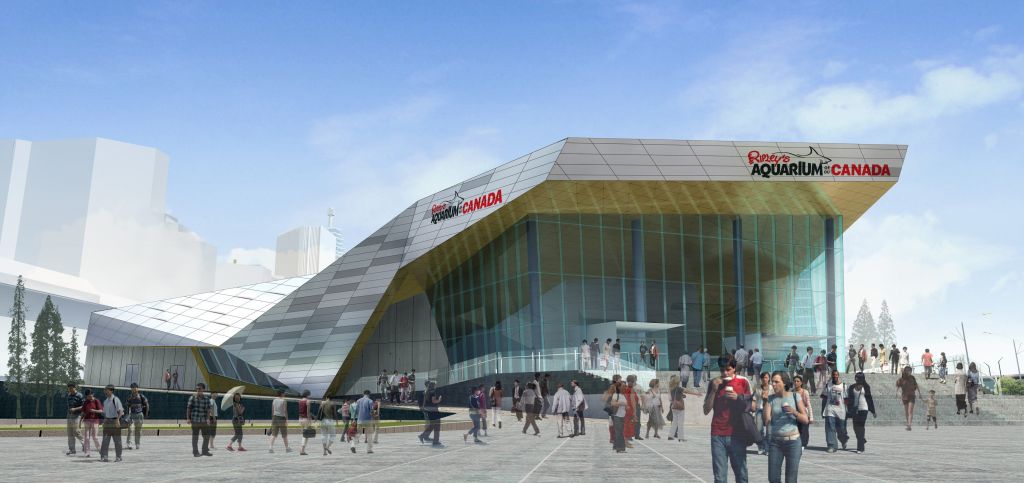 A new aquarium, opening at the base of Toronto's CN Tower, will boast more than 5.7 million L (1.5 million gal) of water, depicting marine and freshwater habitats from around the world.
Scheduled to open in 2013, the 12,500-m2 (135,000-sf) Ripley's Aquarium of Canada is set to include more than 13,500 species of animals in exhibits ranging from tropical reefs and Atlantic Ocean habitats to the Great Lakes. The facility's construction is going to have a positive effect on the economy, both local and national, Ripley's Joseph Choromanski told Construction Canada Online.
"The aquarium construction will create more than 600 jobs, generating an immediate economic impact of more than $50 million––$35 million of which will be labour income. In addition, during the two-year construction timeline, the project is forecasted to generate over $25 million in taxes for all three levels of government," he said.
The Ontario government is investing more than $11 million to support the building of the project; the city is promising to provide property tax incentives (estimated to be between $8 million and $12 million) over a 12-year period under the Imagination, Manufacturing, Innovation, Technology (IMIT) Grants program, which supports new building construction in the tourism sector (among others). The aquarium is expected to draw nearly two million visitors each year.
Building materials for the project include:
• 5300 m3 (187,200 cf) of specialized aquatic concrete;
• 4700 m3 (166,000 cf) of standard concrete;
• 2000 tonnes of reinforcing steel;
• 23,000 m2 (247,500 sf) of formwork;
• 760 tonnes of structural steel;
• 7500 m2 (81,000 sf) of steel deck;
• 19 km (12 mi) of HVAC and plumbing pipe;
• variable speed drive magnetic bearing chillers (for colder water temperatures);
• 99 per cent efficient condensing gas-fired domestic hot water heaters; and
• variable speed drives on all fans and pumps.
Choromanski explained the aquarium will benefit from free cooling in the winter, thanks to a tower that will produce chilled water.