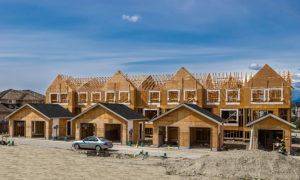 A 2022 report titled, "The Real Economy, Canada," found that while most industries gained jobs, the construction industry lost over 23,000 in April and June, despite the pent-up demand in the overall labour market.
Rising interest rates, combined with inflation, is threatening to put a lid on housing construction for the foreseeable future, potentially worsening the housing affordability crisis in Canada.
The report predicts Canada could enter recession in the beginning of 2023, due to inflation and an increasing unemployment rate, compounded by labour and housing shortages, despite recent positive economic activity.
However, Canada Mortgage and Housing Corporation (CMHC)'s new mortgage loan insurance program is giving developers access to mortgages with more favourable financial terms, incentivizing them to build more affordable and energy efficient housing projects.
Declining labour force participation rates, an aging population, and declining fertility rates mean Canada must rely on immigration, rather than natural growth, to replenish the labour pool.
Immigrants could increase productivity rates, something Canada cannot ignore as labour productivity in Canada might fall to its lowest in the decade, as documented by the Organization for Economic Co-operation and Development (OECD).
The report was released by RSM Canada LLP, which provides public accounting services and is the Canadian counterpart of RSM International, a global network of independent audit, tax, and consulting firms.