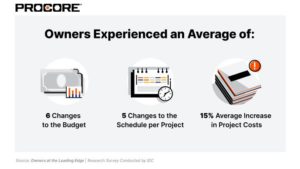 A new survey from international research firm International Data Corporation (IDC) found most construction projects in Canada and the U.S. are delivered late and significantly over budget compared to the owners' original plan.
Conducted in May and June by IDC, and commissioned by Procore Technologies, the survey asked about the challenges project owners and developers face and how they have responded to them. The survey also explored the benefits gained by moving from manual processes to technology solutions.
The survey revealed 75 per cent of owners were over planned budgets on their projects, and 77 per cent were late. On average, projects were 70 days late compared to their original estimates. Per project, owners experienced an average of six changes to the budget and five changes to the schedule, with a 15 per cent average increase in project costs because of these changes.
Most projects are late, but some respondents are doing better than others. The survey identified significant differences between high and low performers, based on variance between budget estimate and estimate for day and project completion time. Better on-budget and on-schedule performance often corresponded with embracing integrated technology.
Two groups emerged:
High performers: The 17 per cent of respondents who were least over their budget and estimate for days/completion time.
Low performers: The 19 per cent of responding organizations who were most over their budget and estimate for days/completion time.
Low performers struggled with outdated or manual processes across project conceptualization, preconstruction planning, change order management, and incident tracking on the jobsite. Owners who leverage digital solutions are generally delivering projects on budget and on schedule.
Owners reliant on manual or siloed productivity solutions (e.g. Excel, SharePoint, Dropbox, local drive document storage, or outdated custom legacy solutions) are typically delivering projects late and over budget.
Most respondents are not using specialized construction-specific software instead relying on the kind of fragmented general productivity software used across many industries and offices (85 per cent). The remaining 15 per cent manage construction projects with software tools that are integrated together.
As the construction industry continues the rapid innovation seen in recent years, those who adopt integrated industry specific technology solutions will be able to take advantage to get ahead, while the others will be left out/behind.
Participants were construction project owners and developers in the public and private sectors in Canada and the U.S. They are involved in various roles and responsibilities across the project delivery lifecycle, from conceptualization, pre-construction planning to project management, execution, and operations.