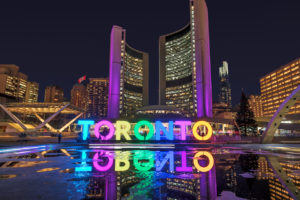 Canadian Construction Innovations (CCI) is holding a daylong conference—from 7:30 a.m. to 6:30 p.m.—on November 3 at Toronto's Beanfield Center. The theme of this inaugural conference is "Construction on the Precipice of Massive Change."
John Bockstael, chair of CCI board and CEO of Bockstael Construction, will open the event. His talk will be followed by three panel discussions:
"Identification of New Innovative Solutions;"
"Challenges and Barriers;" and
"Leveraging the Nine Key Success Factors for Innovation."
Mathew Kattapuram, senior vice-president (strategic business development) at Aecon will moderate the discussions. Panelists include Deepak Aatresh (Aditazz), Randy Frank (3M Canada), Mani Golparvar Fard (University of Illinois), and Mélinda Nycholat (Defence Construction Canada).
At 11:30 a.m., Fard—civil engineering, computer science, and technology entrepreneurship professor—will present on "Visual Data Analytics for Proactive Project Controls on Construction Sites." His talk introduces an integrated visual environment for progress monitoring and proactive project controls on construction sites.
Jesse Devitte, managing partner of Borealis Ventures, will deliver the keynote address, "It is Time for Smart Cities." With the built environment serving as the platform for modern existence, this talk examines the ways one lives, works, and plays are rapidly changing in this era of increasing urbanization. Innovation through smarter cities is the key to maintaining and improving quality of life. The construction industry needs to change how it designs, builds, operates, and improves the built environment to realize the promise of smarter cities at scale.
There will also be a special panel presentation examining how companies can meet the challenges of climate change and thrive. Mark Wilhelm, sustainability and climate change consultant for Ameresco, is the moderator. Panelists include Michael Deane (Turner), Silvano Mason (Silvin), Grant McDonald (Finesco), and Mike Szabo (Diamond-Schmitt Architects). At the end of the session, participants are expected to understand:
climate change-related regulations, trends, and impacts;
obstacles and opportunities associated with climate change and developing high-performance buildings; and
different approaches to developing the best path forward.
There will also be presentations on innovative solutions that have the potential of significantly increasing efficiencies in the industry. The evening comes to a close with a cocktail reception and exhibits. For more information and to register, click here.