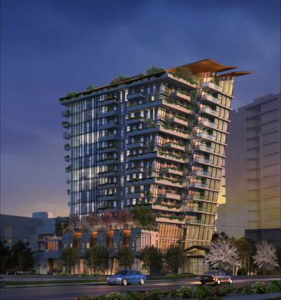 The Wedge, a new residential tower in downtown Victoria, B.C., has commenced construction. The $50-million development seeks to deliver artful, award-winning architecture, tailor-made for its location.
The Wedge was inspired by the natural beauty of Vancouver Island.  Featuring 93 residences in one-, two-, and three-bedroom designs, every home in the 15-storey tower is designed to feel like a corner unit with maximized views of water, mountains, and the city.
The highly sustainable development was designed to achieve the Leadership in Energy and Environmental Design (LEED) Platinum certification, with numerous eco-friendly elements like water conservation, active onsite power generation, sustainable materials, natural ventilation, daylighting, and strategic sun control among others.  The Wedge will also offer ground-floor commercial space. The development was designed by San Diego and Vancouver-based AVRP Skyport.
The Wedge was designed to capture views to the Strait of Juan De Fuca while preserving a historic chapel on the same city block. Renowned Victoria architect John Di Castri designed the chapel in 1955, and an administration office was added in 1961. The Wedge features a unique angled eastern façade that will allow the historic mid-century modern chapel to remain surrounded by a garden. The tower's architectural character will also reflect the modern design of the chapel.
"Many times, the best architecture emerges when there are unique design challenges. These obstacles force designers to think creatively and find solutions for that specific development," said Douglas H. Austin, FAIA, MAIBC, LEED AP, founder of AVRP Skyport. "Certainly, that was the case with The Wedge.  Finding a way to preserve the historic chapel and maximize views of Victoria's natural beauty sparked the idea for the distinctive wedge-shaped design."
The development recently won a Gold Nugget Grand Award as the 'Best On-The-Boards Multifamily Community.' The Gold Nugget Awards is considered one of the most competitive and prestigious design competitions, which recognizes outstanding architectural design and planning achievements in more than 50 building categories.
Construction is anticipated to be complete early 2023.