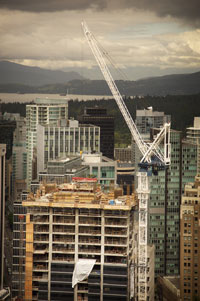 A national survey conducted by Construction Canada suggests the next few years should be good ones for the country's building community. When asked how they, or their firms, would likely fare over the next five years, 93 per cent of design/construction professionals said they would be "better" or "about the same."
Drawing data from hundreds of respondents from across the nation, the survey also suggests industry topics such as sustainability and building information modelling (BIM) are important, but still tend to be more the exception than the norm. Approximately 40 per cent said they pursued ratings like Leadership in Energy and Environmental Design (LEED) for less than one tenth of all projects. (Only eight per cent said they had green targets for 85 per cent of their projects.) As for BIM, almost three-quarters of respondents did not use the software strategy for the majority of their projects.
For full survey results, see the May 2011 issue of Construction Canada.