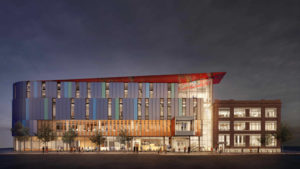 Construction has commenced on a $95-million innovation centre at the Red River College Exchange District campus in Winnipeg. This project positions architectural innovation to inspire and support a culture of advanced learning and knowledge transfer.
The 9290-m2 (100,000-sf) development designed by Diamond Schmitt Architects in joint venture with Number TEN Architectural Group incorporates a repurposed downtown heritage building and new construction to create a dynamic crossroads with state-of-the-art facilities for applied research, entrepreneurship, and commercialization.
A hallmark of the centre will be the collaboration with industry and the emerging startup sector of Winnipeg's Innovation Alley. The building's design features distinct and thematic zones that underscore this engagement.
"The Agora, inspired by its Greek precedent, forms the heart of the facility—an open space for orchestrated 'collisions' between students and faculty, industry partners, and the college as a whole," said Sydney Browne, principal, Diamond Schmitt. "An atrium above this zone brings daylight into the core."
Innovation zones are transparent program areas emphasizing the everyday experience of students, faculty, and staff. The threshold between the new and existing structures is bathed in natural light to reveal the subtle excellence of the century-old Scott Fruit Building.
The Roundhouse anchors the west corner of the new building and is the symbolic centre, imbued with Indigenous meaning and European history. At roof level, the City Room will be enveloped in bold traditional art steeped in local culture. The art will be visible both on the ceiling of this fully glazed space and across the cladding and soffit.
Targeting net-zero energy consumption, the skin of the new high-performance building consists of photovoltaic (PV) glass panels that create energy and also change colour depending on the angle of view and weather conditions.
This fast-track project is slated for completion in 2020.