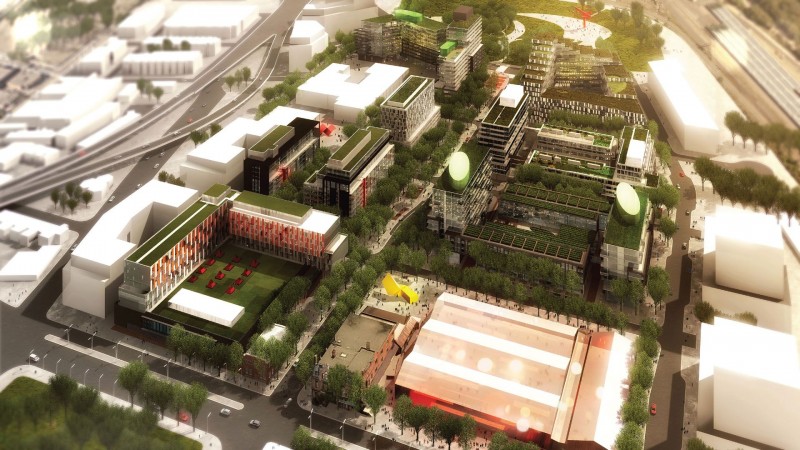 Construction is underway on the section of Toronto's new West Don Lands community that will be used as the Toronto 2015 Pan/Parapan American Games Athletes' Village.
Developed by Waterfront Toronto in partnership with Infrastructure Ontario (IO), all buildings within the 14.3-ha (35.3-acre) Athletes' Village area will aim to achieve a minimum of Gold under the Leadership in Energy and Environmental Design (LEED) program.
The area located between Front Street and the rail corridor, and between Bayview Avenue and Cherry Street, will be converted into the initial plan of a mixed-use neighbourhood as outlined in Waterfront Toronto's precinct plan. It will house 10,000 athletes and officials during the games, to be held in the summer of 2015. Following the Pan Am Games, part of the development will be converted into a permanent student residence serving George Brown College's two downtown campuses.
There will also be a new 7618-m2 (82,000-sf) facility featuring a gymnasium, swimming pool, and fitness studios and exercise areas to serve as an athlete training centre. It will later be converted into a YMCA. Additionally, Athletes' Village will include new and extended roadways, with a pedestrian-friendly network of roads with bike paths and public spaces to connect the West Don Lands with adjacent communities. Cherry Street will also be widened and upgraded to accommodate a new streetcar in a dedicated right-of-way.