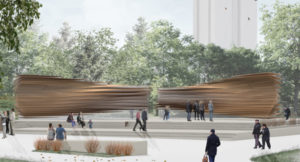 Construction of the Memorial to the Victims of Communism – Canada, a Land of Refuge has started in Ottawa. A sod-turning ceremony was held earlier this month. The project will recognize Canada's international role as a place of refuge for people fleeing injustice and persecution, and honour the millions who suffered under communist regimes.
This key site borders Confederation Boulevard and the Parliamentary and Judicial Precincts and is situated near key federal institutions, including Library and Archives Canada.
The winning design chosen for the memorial is 'Arc of Memory,' a sculptural array of more than 4000 bronze rods configured into a sweeping arc. The bronze rods are intended to express the vastness of communist oppression and invite visitors to reflect on Canada as a free and welcoming country. This concept was submitted by Team Raff, a group of architects and landscape architects based in Toronto that includes Paul Raff (artist and architect), Michael A. Ormston-Holloway (designer and certified arborist), Brett Hoornaert (landscape architectural intern), and Luke Kairys (landscape architect).
Throughout fall 2018 and winter 2019, the project will move forward by completing plans and securing the permits and approvals required for site remediation, constructing the base for the memorial, and landscaping. The memorial is scheduled to be inaugurated in fall 2019.