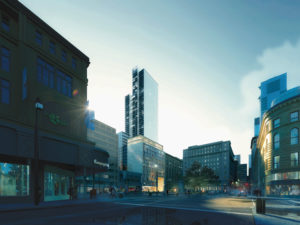 Construction has started on 1 Square Phillips, set to be the tallest residential tower in Montréal, Qué., when complete. The building will reach a height of 232.5 m (663 ft) (above sea level) and have 61 floors.
The tower was designed by Menkès Shooner Dagenais LeTourneux Architects. New York firm Hill West Architects also collaborated on this project.
The 1 Square Phillips building will include a 530-m2 (5700-sf) Sky Lounge on the 50th floor and allow residents and guests to enjoy one of the most spectacular views of Montréal. On the same floor, a 381-m2 (4100-sf) outdoor garden combining greenery and freshness offers panoramic views of the city.
The facility will also have an exclusive dog park, a 1115-m2 (12,000-sf) wellness area, a swimming pool and spas, a refrigerated parcel delivery system, as well as heated walkways.
A variable refrigerant flow (VRF) air-conditioning and heating system, and a high energy performance fenestration, reflecting more light in summer and absorbing it better in winter, will allow 1 Square Phillips to have a minimum carbon footprint. The presence of three green roofs, white membranes on the rooftops, and numerous trees will limit heat islands.
"The past few months have not been easy, but I am very pleased to announce the construction of 1 Square Phillips can begin as planned," said Kheng Ly, CEO of real estate development company Brivia Group. "This is a unique project that will meet the expectations of future residents and will certainly be the pride of Montréal. With this first phase, Brivia Group will play a key role in revitalizing the economy of the metropolis, especially the downtown core."