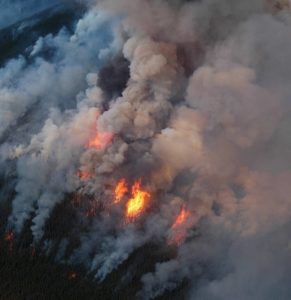 Last week, construction began on a $7.5 million fire guard spanning 30 km (18.6 mi) in Grande Prairie, Alberta, to enhance protection and fortification against the wildfires that started in the region end of April 2023.
According to Global News, this recent spate of Alberta wildfires has surpassed the 2019 record, when 615,000 ha (1.5 million acres) of land was burned in the province. Mandatory evacuation orders have impacted more than 13,000 individuals in Alberta, affecting them in various ways.
City News Edmonton reported a fire guard involves the use of bulldozers to clear trees and vegetation, reducing potential fuel for wildfires and controlling their spread. The County of Grande Prairie remains a cause for concern as wildfires pose a threat to communities in central and northern Alberta.
Alberta Premier Danielle Smith visited the fire-affected area last week, meeting local officials and Indigenous leaders, and decided a fire guard was necessary.
According to My Grand Prairie Now, once finished, the firebreak will reach widths of up to 200 m (656 ft) in certain areas. Its path will extend from Evergreen Park in the east, north to Aspen Ridge, and south to the Wapiti River. Further, it will continue south of the park and westward along Highway 40.
The report continues that most of the firebreak construction will take place on Crown land. The initial completion of the firebreak line is anticipated within 14 days, with ongoing expansion and fortification efforts to follow