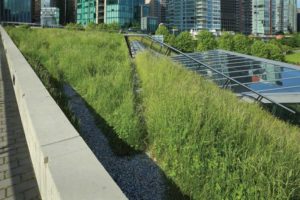 By Sadia Badhon
The Association de la construction du Québec (ACQ) is fighting a new bylaw mandating green roofs of at least 20 per cent on all buildings over 2000 m2 (21,528 sf) in Gatineau, Qué.
Although ACQ is not against the objectives of the bylaw, which came into effect in January, they are refuting it in court as there is no transition period to implement the regulation.
"We agree the industry has to adjust some of its practices to do our part in the climate change fight, but we cannot change the bylaw radically and not give us any time to adjust our practice," said Guillaume Houle, head of public affairs at ACQ.
As per CBC, under the new regulation, new multi-residential buildings will have to incorporate charging stations for electric vehicles and make sure parking areas have at least 40 per cent greenery.
Houle says, the new bylaw has placed builders and developers under a strong financial pressure as projects in production have to be redesigned and everything has to start from scratch.
ACQ has filed a case in the Québec Supreme Court requesting a stay on the bylaw.
"We believe the immediate application of the regulations will cause irreparable damage to the economy of Gatineau and that there is an urgent need to stay the regulations on green buildings in this sense," Houle said.
ACQ has also requested a judicial appeal as they feel the City of Gatineau has omitted provisions regarding the progressive implementation of municipal bylaws to new projects.
"Other provisions are also missing, in our opinion," said Houle. "Among other things, there is no provision determining the cases where the work must target an extensive green roof, an intensive green roof, or a white roof."
Additionally, they have filed before the Québec Municipal Commission, a dispute of conformity that says concordance regulations are not strictly in accordance with the objectives set out in the city's development plan.