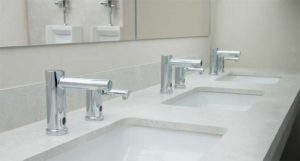 When choosing sensor-operated faucets or flush valves, be sure to consider the battery life as part of the total cost-of-ownership consideration. Minimize maintenance by choosing models with long-lasting as well as standard alkaline batteries that are inexpensive to replace. For example, the World Toilet Organization (WTO) found the average person uses the toilet six to eight times daily, which adds up to 2500 times a year. As such, facilities either need batteries that will stand up to this high amount of use or a hard-wired option.
Commercial facilities with off-seasons when products are not being used, like schools and stadiums, might run into issues if water is sitting dormant. Sensor-operated fixtures with an automated cycle to run water or flush at set intervals to clear the lines are a good option for these types of facilities.
When choosing flush valves, decision-makers should consider opting for piston technology instead of the diaphragm style, as the piston technology requires virtually no maintenance or replacement parts for the life of the flush valve, increasing the bottom line due to less upkeep over time and minimizing labour costs. It is also essential to select a flush valve with the ability to accommodate water pressure variances, an issue commonly found in larger buildings. This way, one can ensure lines are being cleared, and also not worry about costly sewer back-ups.
Spending less time on plumbing maintenance also has another benefit; it allows maintenance supervisors and technicians to focus their energy elsewhere and perform other tasks, thereby improving productivity.
Replacement
It is pretty simple—the less one has to replace a fixture, the lower the lifetime cost. Installing durable, low-maintenance faucets reduces the need for replacement. When purchasing a quality fixture, the initial purchase price may be slightly higher than other brands; however, over time, it can save properties money by offering longevity, reduced maintenance costs, and less frustration for users by lessening "out-of-commission" windows. The same can be said of showerheads and flush valves—it is worth investing in better construction and quality upfront to avoid going back to the market for new fixtures in a short timeframe.
If retrofitting a space, replacing fixtures can actually be a way to save money. Consider replacing existing fixtures with more efficient models for fiscal benefits over time. While this may increase initial cost, the lifetime savings will be significant. For example, standard showerheads flow at 9.46 L (2.5 gal) per minute, but water-efficient models certified to the Environmental Protection Agency's (EPA's) WaterSense program flow at 7.57 L
(2 gal) per minute, a 20 per cent decrease in water usage.
Product efficiency and sustainability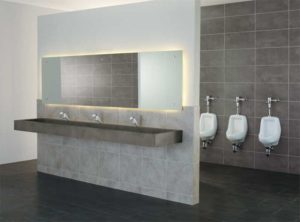 According to the Canada Green Building Council (CaGBC), up to 70 per cent of municipal water is consumed in and around buildings, making the selection of plumbing products using water efficiently a smart move for the environment and for facilities. Not only are low-flow fixtures better for the environment, but they also save facilities money over time by reducing water usage and lowering overall energy bills.
Consider these:
McGill University in Montréal found the average Canadian uses about 329 L (87 gal) of water per day;
using Toronto's current 2018 water rate of $0.01729145/gal, that is a cost of $1.50 per day, per person; and
if reduced by 20 per cent (aligning with the difference between a standard and water-efficient showerhead), water usage cost to $1.20/day, a savings of nearly $110 per year.
An easy way to reduce water consumption is installing faucets with built-in time limits. Both metering faucets and sensor-operated fixtures can make it easier for facilities to conserve water by allowing users to determine the specific amount of time the water will run, preventing fixtures from being left on too long. In particular, sensor-powered models allow users to adjust the metering flow time to fit any market—time may vary from a minimum of 10 seconds, for an educational environment, up to a maximum of three minutes for healthcare environments, where code requires timed hand washing.
The EPA notes more water-efficient products can also lower costs associated with using water equipment, including reducing the energy required to heat water and move it throughout a space. As a result, using less water, especially hot water, gives facilities the ability to reduce gas and electric expenses, as well—again, decreasing the total cost of ownership of a product.
Simply put, it is important to think about the long game when specifying commercial plumbing products. Purchase price certainly is important, but should be considered as part of the total cost of ownership. When done right, attention to lifetime cost creates impressive dividends in the bottom line.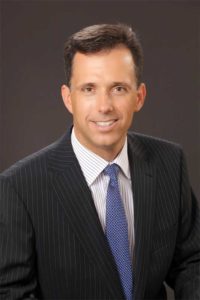 Garry Scott is vice-president, marketing and ecommerce, for Moen Canada. In his role, he leads consumer and trade marketing, ecommerce and loyalty programs, as well as supports new product development and innovation. His previous experience includes various leadership positions within the consumer-packaged goods industry. Scott is a graduate of Wilfrid Laurier University with a HBBA in Marketing. He can be reached at media@moen.com.

Control the content you see on ConstructionCanada.net!
Learn More.