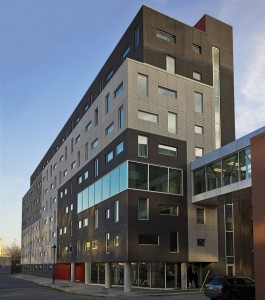 Two Canadian projects were honoured at the 51st annual Precast/Prestressed Concrete Institute (PCI) Design Awards.
A total of 20 projects were honoured ranging from bridges to multi-family structures in Canada, Mexico, and the United States. The awards are given to projects showcasing the high-performance attributes of precast/prestressed concrete. These attributes include concrete spans on bridges, durability, and resilience to extreme weather.
The 2013 Canadian winners are ETS Student Housing (Montréal), which won for best multi-family project, and the Holder Avenue Underpass (Thunder Bay) which received "Best Bridge with a Span Between 23 and 45 m (76 and 149 ft)" and the Harry H. Edwards Award for Industry Advancement. The project was featured in a cover story in the January 2013 issue of Construction Canada.
Additional categories include Best Parking Structure, Best Mixed-Use Building, and Best Religious Structure. Click here for a full list of winners.