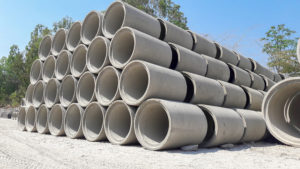 Earlier this fall, the Canadian Concrete Pipe and Precast Association (CCPPA) presented their newly developed Environmental Product Declaration (EPD) to its membership. The declaration—developed and published by CCPPA and its members as well as verified by a third-party—reveals the potential environmental impact of concrete-based infrastructure products.
"Transparency is key. It really is a type of nutrition label for our customers and the public who need to know the environmental impact of concrete pipe and related products made and available in Canada. It is our goal as an association to further develop environmentally compatible and sustainable construction products for now and for future generations," said Andy Dutfield, the association's chair.
This is a Canadian industry-average business-to-business Type III EPD covering three product categories:
concrete pipe;
concrete box structures; and
manholes/catch basins.
The EPD takes a cradle-to-gate approach, covering the potential environmental impact of standardized life cycle processes—from raw material supply, methods of transportation for all materials in each stage of production, and the manufacturing process to when the product leaves the 'gate.'
The declaration also supports transparency for sustainable construction certification programs such as Leadership in Energy and Environmental Design (LEED ) and Envision.