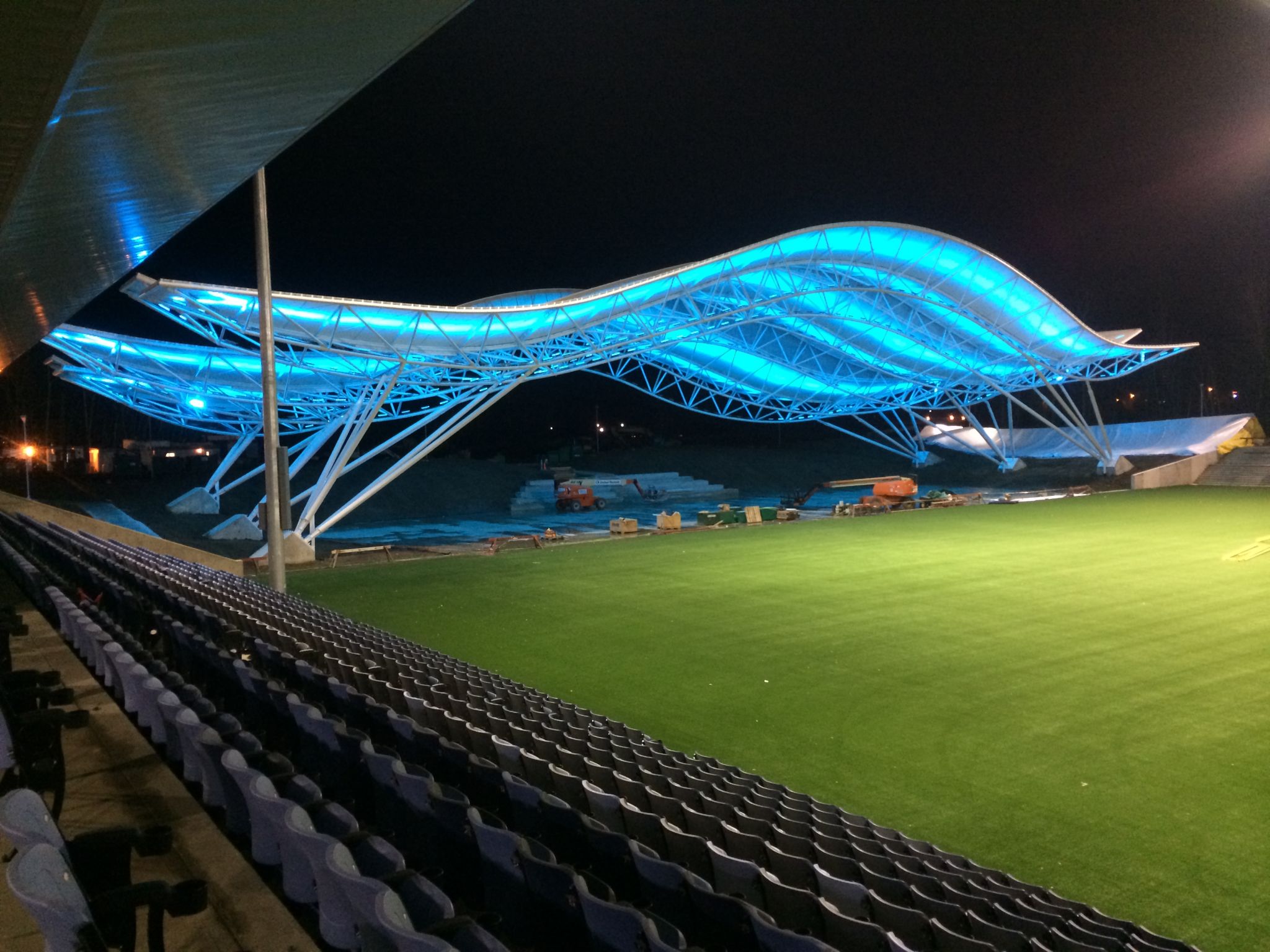 International and local acts will soon grace the Nexen Energy Stage at SMS Equipment Stadium at Shell Place in Fort McMurray, Alta., as part of a major expansion allowing the venue to host large-scale events.
Scheduled to be completed later this year, the facility will feature a tensile membrane canopy. In addition to the Nexen Energy Stage and SMS Equipment Stadium, the expanded Shell Place will include a baseball/softball tournament centre, field house, conference centre, and community park.
The approximately 2787-m2 (30,000-sf) polytetrafluoroethylene (PTFE) canopy structure, which overlooks the stage and an outdoor rink, has become a feature widely identified with the Shell Place project. Designed to mimic the undulating northern lights, the canopy feature creates a strong point of visual interest and will become a focal point for community events and celebration.
Collaboration is key
Architecture Tkalcic Benger, 360 Architecture, and Clark Builders worked together to complete the project. The team wanted to make the project unique and weather-resistant, so a custom tensile structure for the canopy was specified. The northern lights inspired structure is made of PTFE fibreglass membrane with a steel supporting structure. PTFE coats the woven fibreglass to form a durable and weather-resistant membrane. PTFE fibreglass membranes can be installed in various climates with a product life that can exceed 30 years.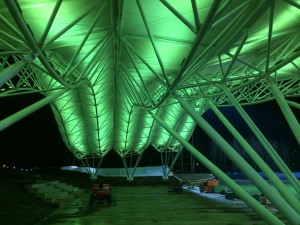 The PTFE structure creates an open, inviting space that will come to life in the evenings with glowing lights and cheering fans. These membranes can also be used to construct roofs, façades, freestanding buildings, skylights, or accent enclosures.
Differing from other building materials both esthetically and functionally, a combination of uncommon physical and geometric characteristics make tensile membrane structures unique. Fabric roof forms are curved between supporting elements in a manner reflective of the flow of tension forces within the membrane. With the exception of air-supported structures, these curvatures are anticlastic in nature and the curving fabric forms have dramatic appeal. Another attractive feature of tensioned fabric structures is the range of spanning capability. The inherent visual drama and the fabric's long-span ability are particularly appropriate for entertainment venues.
The structure is also environmentally responsible and cost effective. PTFE fibreglass is Energy Star and Cool Roof Rating Council (CRRC) certified. Additionally, PTFE fibreglass membranes reflect as much as 73 per cent of the sun's energy, and certain grades of PTFE fibreglass can absorb 14 per cent of the sun's energy while allowing 13 per cent of natural daylight and seven per cent of re-radiated energy (solar heat) to transmit through the membrane.
The lightweight membrane also provides a cost-effective solution requiring less structural steel to support the roof or façade, enabling long spans of column-free space. Additionally, the membrane offers building owners reduced construction costs and maintenance costs compared to traditional building materials.

Control the content you see on ConstructionCanada.net!
Learn More.