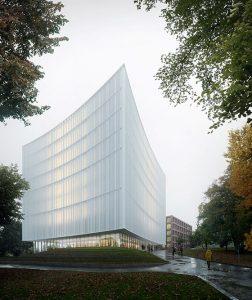 Danish architecture firm Cobe, led by founder Dan Stubbergaard, has won an international competition for the new Gothenburg University Library in the heart of Gothenburg, Sweden.
The new 16,000-m2 (172,223-sf) library will be in the university area of Näckrosen, near many of the city's cultural institutions and the Faculties of Humanities and the Fine, Applied and Performing Arts. In addition to providing a new setting for knowledge-sharing and research in the Swedish university city, the building will house the existing libraries for the humanities, arts, music, drama, plus the university archives and digital services.
Cobe's project was selected by a unanimous jury made up of representatives from Akademiska Hus, a state-owned property company, and the University of Gothenburg, the City of Gothenburg, and Architects Sweden.
"The proposal from Cobe is the single concept from the competition with the greatest development potential and displays a clear and unique identity," said Hayar Gohary, project director at Akademiska Hus and chairman of the jury. "It adapts to the site's unique qualities while also meeting the specific needs of the University of Gothenburg."
With the book as inspiration
Cobe's project uses the book as the source of inspiration and point of departure for the design. The lightness and gravity of a book are reflected in the subtle curvature of the building's volume and the vertical lines of its façade—much like the pages of a book, being opened. The volume rests on an open, transparent ground floor with floor-to-ceiling windows. The ambition is to allow the building to blend in with the surrounding park, to invite new and current users inside, and to stand out as a beacon of knowledge at the top of the university area.
"The building volume, its colours, and materials all point to a book being opened. Regardless of which direction you approach it from, you are invited in," said Dan Stubbergaard, Cobe founder. "The integration of the building and park was a key consideration from the outset, and we have deliberately preserved as much of the existing park landscape as possible."
Automated book depository in the heart of the building
With the library, the University of Gothenburg will gain additional meeting facilities, better research environments, and an innovative setting to house the university's collection. In the library's core, Sweden's first fully automated book depository stores and retrieves books and other media in a compact way.
The public stairs of the building are situated around the depository, placing books and the knowledge within them at the core of the experience of the building. Study areas and offices are located toward the façade, ensuring optimal daylight conditions and views of the park and the city.
Construction is scheduled to begin in 2025 with completion in 2028.