Clarington facility to safely store waste from decades of nuclear mining
by brittney_cutler_2 | May 17, 2022 6:20 pm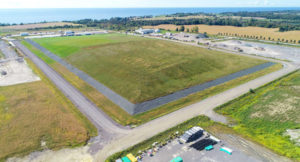 Canadian Nuclear Laboratories (CNL) marked the completion of the Port Granby Project, which involved safely excavating and transferring low-level radioactive waste to a newly constructed management facility in Clarington, Ontario.
Workers excavated more than 1.3 million tonnes of waste from the Lake Ontario shoreline. It had resulted from radium and uranium refining operations of former Crown corporation Eldorado Nuclear and its private sector predecessors, which operated from the 1930s to 1988. The waste is now safely stored in an engineered, above-ground storage mound, which was capped and closed in fall 2021.
CNL hosted local residents, First Nations representatives, and community groups at a celebration to mark the completion of the project. Guests were given an up-close look at the restored lakefront site and the drumlin-shaped storage mound, located approximately 700 m (2296 ft) away from the lake. Dedicated systems within the mound and around the perimeter of the facility will allow maintenance and monitoring of its safety and performance for years into the future.
"The completion of the Port Granby Project represents a major milestone for the community of Clarington and fulfils the Government of Canada's commitment to safely address the long-term management of this waste," says Jonathan Wilkinson, Canada's minister of natural resources. "In order to move forward and establish a clean energy future, we must first address the legacies of the past. That was the mission of the Port Granby project."
Endnotes:
[Image]: https://www.constructioncanada.net/wp-content/uploads/2022/05/port-granby-project-storage-mound-capped-and-closed-2.jpg
Source URL: https://www.constructioncanada.net/clarington-facility-to-safely-store-waste-from-decades-of-nuclear-mining/
---