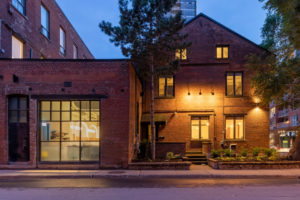 After eight months of work and a year and a half in a pandemic, interior design firm Clairoux unveiled Place Carmin, a brasserie-style gourmet restaurant located in Montreal's Quartier International.
Restauranteurs Mélanie Blanchette and François Nadon, owners of Bouillon Bilk and Cadet, are the duo behind this new French brasserie. In this project, Clairoux designed a dining room, a bar space with two private dining rooms for groups, and a terrasse.
Natural light reflects off the walls, with honey-coloured cabinets to warm the space. There are ceramics in the mezzanine washrooms, natural tones, light natural wood, and brass set off by brick. As for furniture, they have added chairs with rounded forms and select fabrics, such as leather in tawny hues.
Blanchette and Nadon worked with local creators and a large team to make this project a reality. The wallpapering, lighting, and sculptures were all crafted by local companies under the supervision of Les Deux Marteaux.