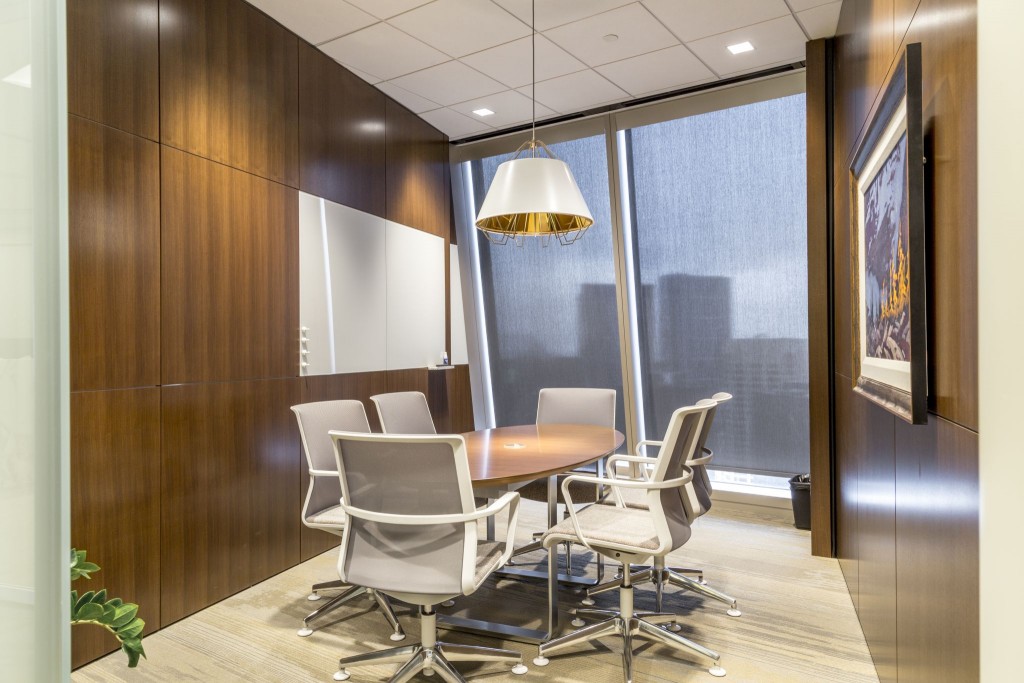 By Darcy Daniels
With steady development in the oil patch and the rapidly growing staff numbers to match, Pembina—a Calgary-based energy company operating pipelines and gas processing infrastructure around North America—recently required more office space to support its success. It needed workspaces that would be flexible and could change quickly to accommodate their present and future rapid growth.
Temporary work cubicles or partitions were not an option. Pembina was set on a long-term solution with beautiful, custom workspaces that would support employees well into the future. Adaptability was essential so evolving staff changes and project demands could be met without disruptive rebuilds or expensive downtime. The corporate identity was also important and the company wanted it to be upheld across all areas—making design consistency crucial.
With a need for flexibility, Pembina turned to prefabricated construction, as it was the only building method that could meet its requirements, including adaptability, a specific aesthetic, functionality, and brand cohesion. The company had previously used this approach when it built-out four floors in its Calgary headquarters' east tower with 250 offices in 2011. With continued success and the need for even more space, it relocated into 13 floors of its west tower in 2014.
Calgary firm Sizeland Evans designed Pembina's spaces for both projects and worked in concert with the prefab manufacturer, which used proprietary 3-D design and specification software to model the space. With this software, fully custom plans were taken from the idea stages through to design, installation, and project completion. All plans were captured as live data during design and immediately reflected in interactive 3-D fly-throughs and instant pricing. The visual platform let the team tackle potential design concerns before construction began.
Components were manufactured within weeks rather than months, and arrived onsite fully finished and cut to size for an efficient install with minimal waste. This type of interior construction can adapt to change, so Pembina can make updates efficiently as staff numbers and business needs evolve.
The Projects
The first project Pembina completed was four east tower floors in its existing Calgary headquarters facility in 2011. Since the employee population would be an ever-changing recurring process, the most apparent and substantial benefit of using the prefab construction and 3-D design and specification process was flexibility and reusability. One solution could be altered multiple times over, rather than reconstructing every time the company experienced growth.
Three years after the east tower installation, Pembina's rapid growth required an expansion into 14 floors of the west tower. This new project required the same flexibility—the possibility to add additional offices space in the future, or change small rooms into conference rooms to align with the growth of the company. Fortunately, this was possible with the same prefab construction and design technology used in the previous project.
It was equally important for the space to have a similar layout as the east tower. This was easy because the same software used for the previous project retained the details of textiles, colors, walls, and materials used in past projects, meaning designers had the ability to re-create the custom designs exactly.
In addition to standardizing Pembina's offices, the prefab construction and design program allows for continuous repurposing the company could not experience with conventional construction and drywall. It was able to sustain a rapidly growing community and continue to maintain the hospitality of a small business.
Darcy Daniels is a Calgary-based representative of DIRTT Environmental Solutions, a manufacturer of award-winning custom prefab interiors. Darcy can be reached at ddaniels@DIRTT.net.

Control the content you see on ConstructionCanada.net!
Learn More.