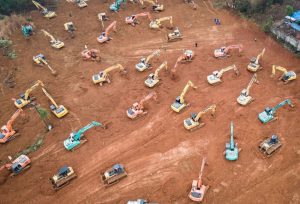 China is constructing a new 1000-bed hospital to treat patients showing symptoms of coronavirus in the city of Wuhan where the outbreak first started. Officials say the hospital will be built in just six days.
The virus has infected nearly 3000 people in China and killed 81 people.
Named Wuhan Huoshenshan Hospital, the facility will likely be made out of prefabricated buildings similar to the Xiaotangshan SARS hospital built in Beijing in 2003 for the SARS outbreak. Xiaotangshan was built in just seven days.
Prefabricated structures are assembled in a factory setting or other manufacturing site, and transported as complete assemblies or sub-assemblies to the construction site where the structure will be located.
"China has a record of getting things done fast even for monumental projects like this," said Yanzhong Huang, a senior fellow for global health at the Council on Foreign Relations to BBC.
The 25,000-m2 (269,000-sf) prefabricated hospital is set to open on February 3, as per Dezeen.
"This authoritarian country relies on this top down mobilization approach. They can overcome bureaucratic nature and financial constraints and are able to mobilize all of the resources," he added.