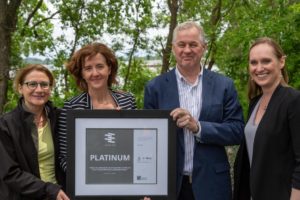 The New Champlain Bridge Corridor Project in Québec has earned an Envision Platinum Award from the Institute for Sustainable Infrastructure (ISI) for achieving one of the highest standards of sustainable development and environmental performance on an infrastructure project.
Envision ratings are given to infrastructure initiatives like roads, bridges, and transportation stations excelling in sustainable development and environmental performance.
This distinction is one of the first to be awarded in Québec for infrastructure on the scale of the new Champlain Bridge, and the first in Canada to be awarded for a bridge project.
The new bridge is expected to have a useable lifespan of 125 years.
The storm water drainage system for the New Champlain Bridge Corridor was designed to withstand the increase of rain water expected from climate change.
Greenhouse gas (GHG) emissions generated during construction of the new Champlain Bridge have been offset by the purchase of carbon credits.
The use of light-emitting diode (LED) fixtures with intelligent dimmers will reduce energy consumption and light pollution that can have an impact on migratory birds.
Additionally, more than 40 per cent of construction waste from the demolition of the Île-des-Sœurs bridge and roads was reused on the site and 54 per cent was recycled so only one per cent of waste went to the landfill. This also reduced truck traffic and the use of quarry materials as well as GHG emissions.
To offset the inevitable loss of fish habitats, wetlands, and migratory bird sanctuaries from the construction of the New Champlain Bridge Corridor, the federal government set up parallel compensation projects to restore marshlands on Lapierre Island in Montréal and create spawning habitats in the Vaudreuil Rapids.
"I want to congratulate the environment teams of Infrastructure Canada and Signature on the Saint Lawrence for their hard work in developing and applying the project's environmental requirements. It is thanks to their efforts that the new Champlain Bridge will not only be a modern effective piece of transportation infrastructure, but also an example of sustainable development and innovation Montréalers and Canadians can be proud of," said federal minister of infrastructure and communities Amarjeet Sohi.