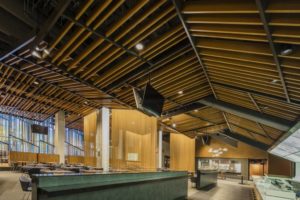 CertainTeed Corporation has bought Hunter Douglas' North American ceilings operations. Hunter Douglas is a manufacturer of architectural products including window coverings. Its North American business manufactures architectural ceilings and soffit systems with operations in Norcross, Georgia, and Denver, Colorado, and has 100 employees.
"The acquisition of Hunter Douglas' North American ceilings business demonstrates our continued commitment to invest in the growth of our ceilings business," said Mark Rayfield, CEO of CertainTeed Corporation. "We have a high level of confidence in the Hunter Douglas team and want to preserve its innovative, entrepreneurial culture, and close customer relationships."
The acquisition expands the CertainTeed product portfolio, which includes all-purpose and high-performance acoustic ceiling panels, clouds and baffles, specialty gypsum ceilings, suspension systems, and custom-engineered acoustic solutions.