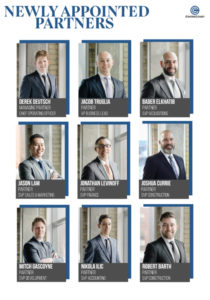 Construction firm CentreCourt has promoted nine executives to partner, to better solidify the company's long-term growth plans.
Gavin Cheung assumed the role of president and managing partner on Jan. 1 of this year. As part of this milestone in the company's history, the following additional executives have also become partners alongside Andrew Hoffman, Shamez Virani, Stephen Belgue, and Gavin Cheung:
Derek Deutsch, managing partner and chief operations officer;
Bader Elkhatib, partner, senior vice-president (SVP) in acquisitions;
Jacob Truglia, partner, vice-president in business lead;
Jason Lam, partner, SVP in sales and marketing;
Jonathan Levinoff, partner, SVP in finance;
Joshua Currie, partner, SVP in construction;
Mitch Gascoyne, partner, SVP in development;
Nikola Ilic, partner, SVP in accounting; and,
Robert Barth, partner, SVP in construction.
"These individuals have distinguished themselves not only through their hard work, dedication and contributions to CentreCourt and project success, but also through their commitment to our culture and principles," said Andrew Hoffman, founding partner and chief executive officer.