Carleton University's energy efficient building project gets federal funding
by nithya_caleb | August 20, 2018 9:30 am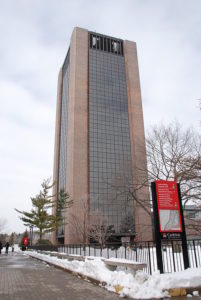 The federal government is investing $35,000 in a project at Carleton University[2] aiming to help the construction industry design more energy efficient and high-performing buildings. This project[3] will study and model occupant behavioural patterns to better predict building energy consumption and find new methods to reduce it.
Buildings and homes contribute approximately 17 per cent of the country's greenhouse gas (GHG) emissions.
This initiative builds on the Pan-Canadian Framework on Clean Growth and Climate Change[4] (PCF) and Canada's Buildings Strategy[5], developed in partnership with the provinces and territories and through broad consultations with industry experts and stakeholders. More than one-third of estimated GHG emissions reductions in the PCF are from energy efficiency measures.
"We are pleased to be working with RWDI, Autodesk, and the Government of Canada on this project, and we already have important outcomes. Our team has demonstrated assumptions made about occupants can have a profound impact on optimal building decisions. As well, we have shown that current building codes underestimate the benefits of technologies that allow buildings to adapt well to partial occupancy," said Liam O'Brien, associate professor in civil and environmental engineering at Carleton University.
Endnotes:
[Image]: https://www.constructioncanada.net/wp-content/uploads/2018/08/401px-Dunton_Tower_20080311.jpg
Carleton University: https://carleton.ca/
project: https://www.nrcan.gc.ca/energy/funding/current-funding-programs/eii/21308
Pan-Canadian Framework on Clean Growth and Climate Change: https://www.canada.ca/en/services/environment/weather/climatechange/pan-canadian-framework/climate-change-plan.html
Canada's Buildings Strategy: http://www.nrcan.gc.ca/energy/efficiency/buildings/20535
Source URL: https://www.constructioncanada.net/carleton-universitys-energy-efficient-building-project-gets-federal-funding/
---