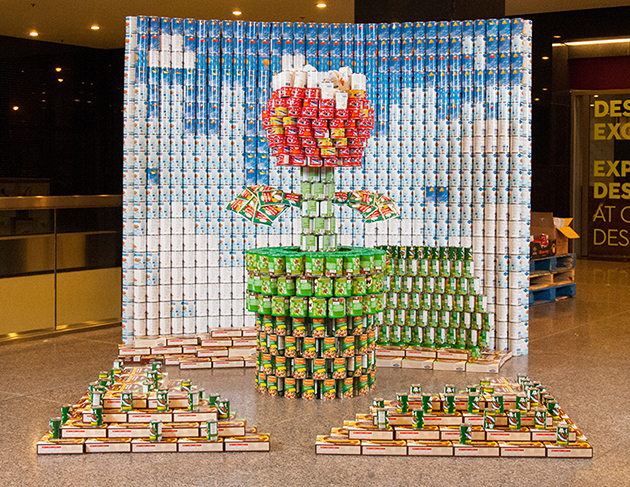 Teams of Toronto architects, designers, engineers, and students have created statues out of canned food for a competition in support of the Daily Bread Food Bank.
Winners of the 15th annual Canstruction Competition were announced this week, and a total of 22,679 kg (50,000 lbs) of food was used in the 19 entries on display.
"Canstruction is a unique type of food drive and a way for the design community to collaborate in a creative way and give back to the community we build in," says Helen Kabriel, co-chair of Canstruction Toronto. "Not only do they give back through food donations, but their structures attract an audience and provoke discussions on hunger and the challenges facing our city."
All statues will be on display in the lobbies of various Toronto buildings in the financial district until May 31. At that point, they will be donated to the food bank.
Some of this year's winning 'canstructures' are:
Jurors Favourite: Cannon Design's "Canpanion Planting: A Three Sisters' Wampum Belt;"
Structural Ingenuity: Aercoustics Engineering and Rebanks Pepper Littlewood Architects' "This Loon Sure CAN Fish;"
Best Meal: Aecom Canada's "Hunger, Just Like the Enemy, is Not Welcome Here;" and
Best Use of Labels: BA Consulting Group's "A Queen's Feast."
Click here for additional photos and information.