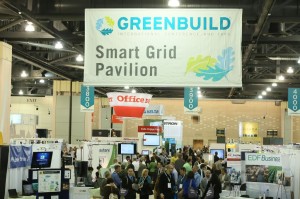 At last week's Greenbuild conference in Philadelphia, four Canadians were presented with Leadership in Energy and Environmental Design (LEED) Fellow status.
Recipients were awarded during the show, which is the world's largest green-building event. EED Fellow designation is presented to industry experts who have demonstrated leadership, innovation, and major contribution to green building.
Canadians honoured were:
Mark Lucuik, director of sustainability at Morrison Hershfield;
Robert Meredith, founder and president of Healthy Green Buildings Consultants; and
Peter Busby, manager director of Perkins + Will in San Francisco.
Additionally, Québec's first recipient of LEED Fellow status was also honoured. Martin Roy received the designation awarded by the U.S. Green Building Council (USGBC) and Green Building Certification Institute (GBCI). He is an engineer and president of Martin Roy et Associes, a firm specializing in bioclimatic, mechanical, and electrical engineering, and optimizing LEED-related performance and services.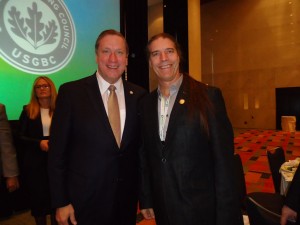 "I am very proud of this title," Roy told Construction Canada Online. "The honour also recognizes Québec's growing demand for quality expertise in the expanding market of sustainable construction."
Greenbuild draws more than 20,000 attendees and 1000 exhibitors to the show floor. Additionally, 100 education seminars were available as well as green-building tours and LEED workshops.
"This year's Greenbuild was a resounding success," USGBC's Jacob Kriss toldConstruction Canada Online. "Greenbuild also saw the launch of LEED v4, the next version of the LEED green building rating system that is already raising the bar for the entire industry, pushing it toward new achievements in creating healthier, high-performing buildings that are better for the planet and the people who use them every day."