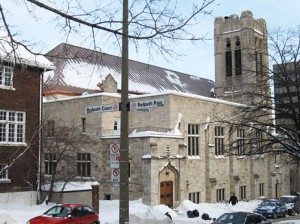 Three Canadian projects have nabbed top "Restoration/Renovation" honours under the continent-wide Canadian Copper & Brass Development Association (CCBDA) and Copper Development Association (CDA) awards competition.
The 2011 North American Copper in Architecture (NACIA) program recognized a trio of domestic envelope cladding projects for their work in "showcasing the beauty, longevity, and workability that is offered by mankind's oldest metal." The winners were:
• new copper batten-seam roof for the 77-year-old Church of St. Andrew and St. Paul (Montréal)—DFS Architecture & Design and Couverture Montreal Nord Ltee.;
• pre-patinated copper panels for the Beaty Lundin Visitor Centre (Britannia Beach, B.C.)—TRB Architecture, Parkwood Construction Ltd, KPS-Keith Panel Systems, and Felt Studio); and
• recladding and roof elements for the Trent Community Sport & Recreation Centre (Peterborough, Ont.)—Shore Tilbe Perkins + Will, Commercial Sheet Metal Inc., and Graham Construction and Engineering.
Two U.S. projects were also awarded under this category.
Additionally, CCBDA and CDA named winners under "New Construction" and "Ornamental" categories. For a complete list, visit www.copper.org.