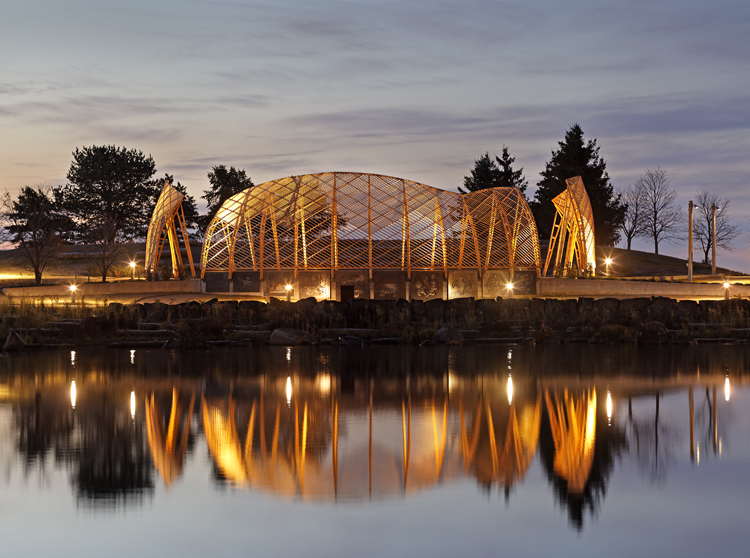 Two Ontario projects have been honoured with a 2013 International Architecture Award from the Chicago Athenaeum: Museum of Architecture and Design and the European Centre for Architecture Art Design and Urban Design.
Brook McIIroy and Ojibway architect Ryan Gorrie were awarded for The Gathering Circle, an outdoor pavilion on Thunder Bay's waterfront. The largest installation within the Spirit Garden project, it employed an aboriginal bentwood building technique for the 24-m (80-ft) wide structure.
"Young spruce trees were harvested in the spring by a local Aboriginal craftsman and were bent and lashed to create 20 arched, truss-like column supports," Calvin Brook from Brook McIlroy explained to Construction Canada Online. "The trusses were then mounted along the circumference of the circular platform and layered with a pattern of curved cedar strips creating a semi-enclosed shroud. The platform is a circular drum-shaped co ncrete retaining wall that also provides seating for viewers into the circle. Four radiating tentacles emanate from the drum into the undulating landscape."
Located north of Toronto, Vaughan's City Hall earned Kuwabara Payne McKenna Blumberg (KPMB) Architects an award as well. The 30,193-m2 (325,000-sf) structure is part of a larger civic campus project including chamber of commerce, public library, and landscape elements.
The award program recognizes new skyscrapers, commercial buildings, private residences, and institutional buildings from around the world. Click here for a full list of winners.