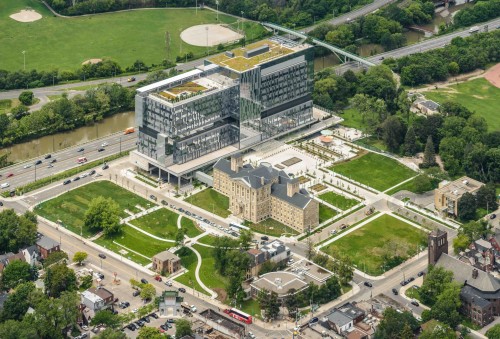 Rehabilitation and chronic care facility Bridgepoint Active Healthcare in Toronto won the Civic Trust Award, marking the second time designer Diamond Schmitt Architects has won the award in two years.
The United Kingdom awards program recognizes projects from around the world that demonstrate a positive social, cultural, environmental, or economic benefit to a local community. Bridgepoint is one of 58 projects selected out of hundreds of submissions. It was one of three North American projects and the only Canadian project to win.
"This recognition adds to a growing list of awards for Bridgepoint, which was designed to connect this complex continuing care and rehabilitation hospital with community and nature, and to empower patients in their own recovery by applying the principles of salutogenic design," said Greg Colucci, principal at Diamond Schmitt.
The 63,174-m² (680,000-sf) facility uses its ravine setting to its advantage by providing expansive views and natural light to create an uplifting and restorative environment. There is a meditative labyrinth, therapy pool overlooking a park, and a vegetated roof terrace. Another point of interest is the use of the restored Don Jail that sits adjacent, which acts as the hospital's administrative offices.
Along with Diamond Schmitt, participating members Startec, KPMB Architects, and HDR are cited with the award, which will be presented in London, England at the Shakespeare Globe Theatre on March 4.
For more on the project, click here. 
To watch a video on the project, click here.