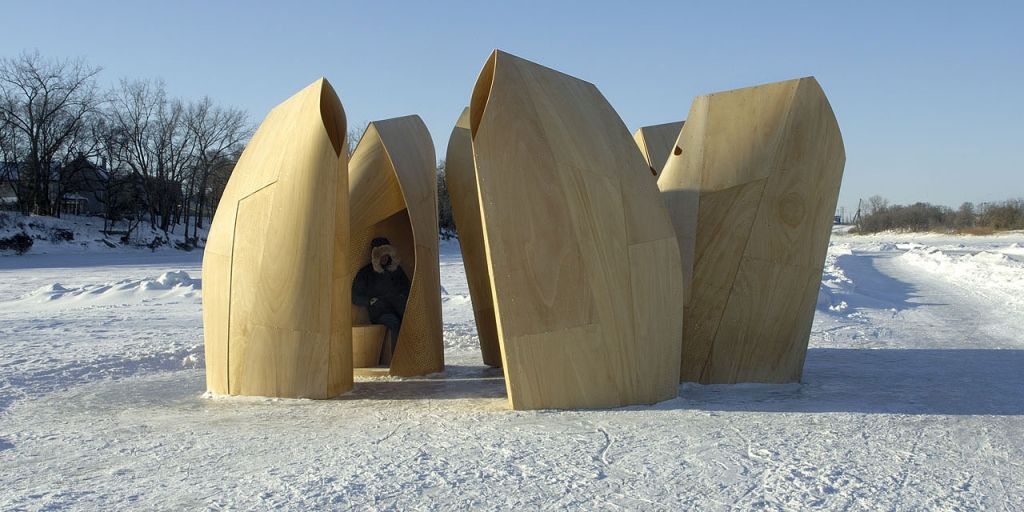 Three Canadian projects have been honoured by the American Society of Landscape Architects (ASLA) for being among the best in public places, residences, parks, and urban planning projects from around the world.
Winning in the General Design category was the Winnipeg Skating Shelters project, which received the Honour Award. Designed by Vancouver's Patkau Architects, the project includes six shelters located near the city's centre on the Red and Assiniboine Rivers, where residents can skate during the winter.
Designed by Montréal-based Claude Corimer + Associés, Toronto's Sugar Beach also earned the Honour Award in the General Design category. Located along the waterfront, the city's second urban beach opened in August 2010. The 8500-m2 (91,493-sf) project combines a beach space, plaza, and tree-lined promenade leading to the lakeshore.
Toronto's recently restored Yorkville Park was the recipient of this year's Award of Excellence in the Landmark category. Originally completed in 1994, the space provides a connection point between the old Yorkville neighbourhood and the commercially developed Bloor Street corridor.
The trio of Canadian projects were among 37 winners. The awards will be presented at ASLA's annual meeting and expo, taking place in Phoenix, Ariz., later this month.
Notably, two Canadians will also be commended. Vancouver architect Cornelia Oberlander, ASLA Fellow, is being presented with the highest honour—the ASLA Medal. Additionally, University of British Columbia (UBC) professor Cynthia L. Girling will be presented with ASLA Fellowship.