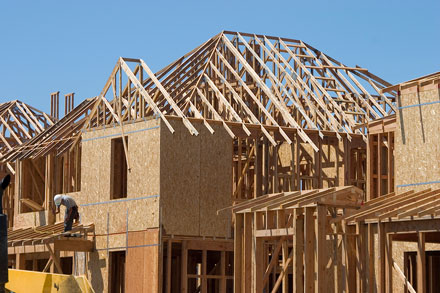 The seasonally adjusted annual rate (SAAR) of housing starts increased overall across the country in August. Up to 224,900 units from 208,000 in July, the trend is determined by the Canada Mortgage and Housing Corporation (CMHC).
The SAAR of housing starts is calculated by adjusting monthly results by removing normal seasonal variations, allowing more accurate comparisons between seasons.
According to CMHC, the increased number of units in the Greater Toronto Area (GTA) is a result of various multi-unit building projects that saw high rates of pre-selling in 2010 and 2011.
Rural starts were reported at a seasonally adjusted annual rate of 19,000 in August, which is down slightly from 21,200 reported for July.
The SAAR of urban starts saw an overall rise of 10.2 per cent with increases in every region, excluding Québec, which decreased by 9.8 per cent. The single urban starts remained unchanged from July at 64,300 units, and multiple urban starts increased by 15.5 per cent from July's total of 141,600 units.
According to CMHC, urban start SAARs by region increased:
• 47.5 per cent in the Atlantic Provinces;
• 20.4 per cent in Ontario;
• 18.2 per cent in British Columbia; and
• 1.3 per cent in the Prairies.