CarbonCure Technologies, a Canadian company that develops cleantech solutions for the concrete industry, has been named one of two winners in the U.S. $20-million NRG COSIA Carbon XPRIZE. Each winner takes a $7.5-million grand prize.
The NRG COSIA Carbon XPRIZE is a global competition that took place in three rounds over 54 months. It challenged participants to develop breakthrough technologies to convert carbon dioxide (CO₂) emissions into usable products—with the ultimate goal of tackling climate change. CarbonCure became one of 38 shortlisted contenders for the Carbon XPRIZE in 2015 and in 2020 completed its final technology demonstration in Alberta.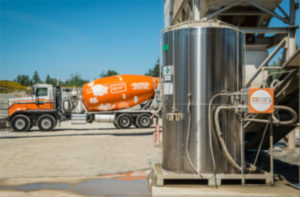 "Climate change can seem like an insurmountable challenge. Team CarbonCure and our fellow Carbon XPRIZE contenders have demonstrated the challenge is surmountable and that we have the solutions available today to create meaningful change," said Jennifer Wagner, CarbonCure president. "The prize money will be used to accelerate our path to our mission of reducing 500 million tonnes of carbon emissions annually by 2030. We are also committing to build an XPRIZE legacy by investing a portion of the prize funds into social equity initiatives."
CarbonCure's XPRIZE project aimed to decarbonize the carbon-intensive process of concrete production. The almost five-year competition showcased the portfolio of CarbonCure's technologies, in addition to completing the world's first integrated CO2-capture project from cement kiln emissions with beneficial reuse in concrete production. The final round introduced CarbonCure's newest commercial technology focused on carbonating reclaimed water—the wastewater generated at concrete plants—to enable the production of concrete with a reduced water, cement, and carbon intensity.
"Buildings are the source of 40 per cent of the world's annual greenhouse gas [GHG] emissions. The world's building stock is expected to double by 2060 so it is vital solutions like CarbonCure's scale quickly," said Marcius Extavour, executive director of the Carbon XPRIZE. "CarbonCure's solution for the concrete industry exemplifies XPRIZE's ideal innovation—it is effective, commercially viable, and scalable—and it can make a real difference to climate change today."
CarbonCure was established in Nova Scotia in 2012 and its concrete solution is now used in more than 300 concrete plants around the world, a press release from CarbonCure said.