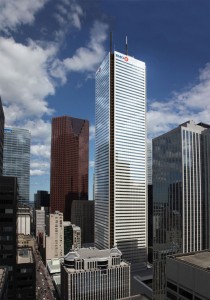 Three Canadian projects were among the finalists in the 2011 Zerofootprint Re-skinning Awards.
Run in partnership with the University of Toronto's (U of T's) John H. Daniels Faculty of Architecture, Landscape, and Design, the competition showcases holistic retrofitting projects from around the world.
"The goal of the awards is to showcase newly evolving re-skinning design technologies and present new ways of thinking about the link between design and climate change," Ron Dembo, Zerofootprint founder, told Construction Canada Online. "Our goal is to jump-start the discussion around how we might retrofit entire cities to massively reduce our collective environmental impact."
The overall winner was The Palms in Venice, California. The trio of Canadian winners included:
• Commercial/Industrial: Finalist–First Canadian Place (Toronto);
• Institutional: Finalist–Centre for Justice Leadership, Humber College (Toronto); and
• Institutional: Finalist–Artscape, Wychwood Barns (Toronto).
"The Zerofootprint Re-skinning Awards is certainly a significant competition since re-skinning will become the most important design task for the next decades—if we want to seriously reduce our greenhouse gas (GHG) emissions," said juror Thomas Auer. "The quality of the submissions had been very exciting, technically as well as esthetically, which underlines the potential and importance of re-skinning."