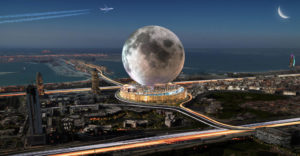 Canadian entrepreneurs Michael R. Henderson and Sandra G. Matthews, co-founders of Moon World Resorts Inc. (MWR), a Canadian-based architectural design and intellectual property licensor, have pitched a destination resort featuring a first-of-its-kind, spherical, moon-shaped hospitality venue, which promises guests a trip to the moon, without the need to venture into outer space.
MWR is based in Toronto, Ont., and Vancouver, B.C. The company is licensing four MOON Destination Resorts around the globe (known as regional licenses), one in each of the following regions, North America, Europe, Middle East/North Africa, and Asia. From a design and architectural viewpoint, MOON will build out a true sphere, in contrast to many buildings which claim to be spheres, in actual just have a dome or partial dome structures. The sphere of the resort will reach at least 224 m (735 ft) above ground level, while its diameter will be built to the least of 198 m (650 ft). The licensees in the different world regions may stretch the height and width dimensions according to local laws. According to the co-founders, they are currently reviewing three global architectural groups, one of which will provide the complete architectural services for the project.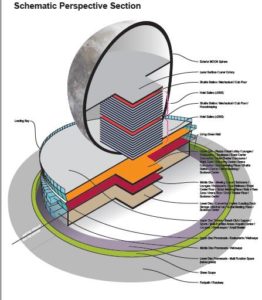 The central idea of the resort revolves around offering guests a chance to visit a specially built 4-ha (10-acre) lunar colony, replicating the moon's surface, to be housed at the highest level of the resort. Other levels below will feature a convention centre, night clubs, restaurants, lounges, ballrooms, and hotel suites among other spaces over a complete area of 515,000 m2 (5,540,000 sf) of LEED-Gold-certified built environment. All the features will be encased, vertically oriented, in a curtain wall within the spherical outer layer. The designers project a year-long site-specific planning exercise, followed by a 4-year build, will deliver each MOON location at a cost of $5 billion.
The entrepreneurs claim to be inspired by replicating the "Bilbao effect" the Canadian American architect Frank Owen Gehry achieved with the grandiose and fanciful Guggenheim Museum Bilbao in Spain.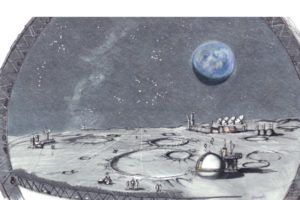 Michael R. Henderson said: "In a world of mediocrity, MOON will set an entirely new standard in build quality, environmental stewardship, and operational excellence. MOON will act as the ultimate bridge, making it possible for everyone to join in the excitement of space tourism. As [Elon] Musk, [Jeff] Bezos and [Richard] Branson brilliantly seek out the next frontier, MOON will deliver a dynamic and authentic experience on planet Earth, available to all, not merely a few. MOON is an integrated, sophisticated, contemporary, unique destination resort which focuses on next generation architecture, engineering, design, art, and technology".