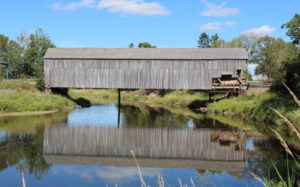 The National Trust for Canada has released its 2018 Top 10 Endangered Places List, which spotlights historic places at risk due to neglect or lack of funding. The Canadian Construction Association is the sponsor for this list.
"Our member companies contribute so much to their communities. The buildings and places they construct make a difference in people's lives. They have likely built some of the buildings featured on the 2018 Top 10 Endangered Places List or live closeby," said Zey Emir, CCA chair. "Helping the National Trust for Canada shed light on these places is a great way to celebrate CCA's centennial. We encourage our members and the public to check the 2018 list to see if a nearby or otherwise cherished place is on the list and see how they can help save places that matter."
The Top 10 Endangered Places List is compiled from nominations as well as reports and news items the National Trust followed throughout the year. First published in 2005, the annual list includes a wide range of places in danger, from community landmarks and heritage districts to sacred Indigenous landscapes and architectural and engineering icons.
The 2018 List includes:
Victoria High School: Seismic upgrades threaten the oldest high school in Victoria, British Columbia.
A. Minchau Blacksmith Shop: This Old Strathcona boomtown gem in Alberta is at risk.
Moose Jaw Natatorium: An iconic Depression-era swimming facility in Saskatchewan will disappear if creative solutions for its renewal are not found.
Muscowequan Residential School: A local Indigenous community in Lestock, Saskatchewan, fighting to save this crumbling residential school as a testament to resilience.
Former Carnegie Library and City of Winnipeg Archives: Winnipeg's first public library languishes years after a storm damaged the roof.
St. Mary's Pulp and Paper Mill: A monumental pulp tower in an historic industrial complex in Sault Ste. Marie, Ont., needs investment and vision to prevent its loss.
White House: A majestic home in Stratford, Ont., risks losing its larger-than-life portico and spacious grounds, key elements of its character that have made it a prominent local landmark.
Royal Victoria Hospital: The future of this historically significant, yet largely-abandoned complex in Montréal, Québec, is in limbo.
Covered Bridges: These iconic structures in New Brunswick are being lost across the province to flooding, maintenance issues, and lack of expert attention.
1029 Tower Road: Located just outside a heritage conservation district in Halifax, this beautiful 19th century cottage may fall prey to densification pressure.
Click here for more about the endangered places.