Canada's tallest condo tower to rise in Toronto
by sadia_badhon | February 19, 2020 6:42 am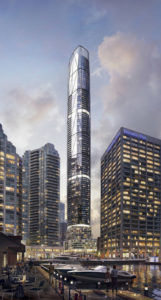 Hariri Pontarini Architects[2] has designed the country's tallest residential condominium. The SkyTower at Pinnacle One Yonge in downtown Toronto will be 95-storeys and rise more than 305 m (1000 ft) over Lake Ontario.
While offering unparalleled views across Lake Ontario and the surrounding Greater Toronto Area (GTA), suites at SkyTower will be defined by its timeless and contemporary designs created by Tanner Hill and Associates, offering spacious and light-filled living experiences.
"An iconic address like One Yonge demands an iconic architectural statement," said Anson Kwok, Pinnacle International's president of sales and marketing. "We knew this location demanded something elegant and distinctive."
The tower will include more than 800 suites in a variety of layouts ranging from 48 to 520 m2 (520 to 2300 sf). Amenities will include a pool, yoga studio, games centre, and party space, as well as outdoor barbeques and lounge areas.
SkyTower is the second of three tall towers planned for Pinnacle One Yonge, and its launch follows the release of the Prestige, a 65-storey condominium that is now under construction. Details of the third structure have not yet been released.
With more than 2200 condominium suites between the three buildings, the residential buildings will anchor the master-planned 408,773-m2 (4.4 million-sf) development of Pinnacle One Yonge. This master-planned community will also include 139,355 m2 (1.5 million sf) of office space, 14,864 m2 (160,000 sf) of retail, a 250-room hotel, a 4645-m2 (50,000-sf) community centre, and a 1-ha (2.5-acre) public park.
"Our approach to this phase, and the other elements of this master-planned development, was predicated on a commitment to not just merely add yet another condo to the downtown core. Instead, we recognized the unique privilege provided by this site to forever reshape the Toronto skyline," Kwok added.
Endnotes:
[Image]: https://www.constructioncanada.net/wp-content/uploads/2020/02/Opener-7.jpg
Hariri Pontarini Architects: https://hariripontarini.com/
Source URL: https://www.constructioncanada.net/canadas-tallest-condo-tower-to-rise-in-toronto/
---