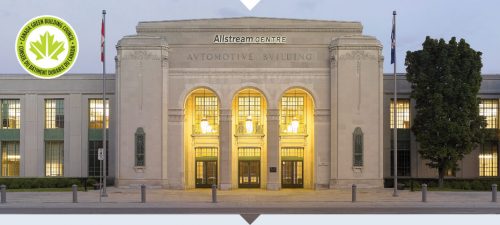 Canada's green building innovators were in the spotlight at the Liberty Grand Entertainment Complex in Toronto last night, as the Canada Green Building Council (CaGBC) honoured the 2016 Leadership Award recipients as a part of Building Lasting Change, the 2016 CaGBC National Conference and Expo.
The annual awards recognize individuals and organizations that show outstanding leadership in the industry, and who have made a significant contribution to the CaGBC's mission and goals in advancing green building in Canada.
"This year's Leadership Award winners represent some of the very best minds and innovators in Canadian green building. I am especially pleased that we are able to honour Peter Halsall, whose leadership and contribution have helped shape the green building industry here in Canada," said Thomas Mueller, CaGBC president/CEO. "I am continually impressed and inspired by the efforts of the individuals we honour each year; each one has been instrumental in driving the evolution of this industry and had a hand in bringing green building to the mainstream."
Halsall, executive director of the Canadian Urban Institute and chair of Synergy Partners, received the CaGBC Lifetime Achievement Award. He was recognized for his extensive leadership in green building in Canada, including his work as the original engineer and sustainability representative on both the Waterfront Toronto and City of Toronto Design Review Panels, ensuring architecture design included sustainability performance and countless projects certified to the Leadership in Energy and Environmental Design (LEED) program.
Other winners included:
Ron Kato, an instructor at the British Columbia Institute of Technology (BCIT), with the Academic Leadership Award;
Jerad Furze, a sustainability specialist at Brookfield Global Integrated Solutions, with the Emerging Green Builder Award;
Metrolinx for the Government Leadership Award;
Jennifer Sanguinetti, director of project services at University of British Columbia (UBC) with a Volunteer Leadership Award;
Michael Flowers, a municipal engineer with WSP Canada Inc., with a CaGBC Chapter Leadership Award;
Emmanuel Cosgrove, senior evaluator of LEED Canada for Homes at Écohabitation, with the Green Building Champion Award;
David Hoffman of the Toronto-Dominion Centre (Cadillac Fairview) with the Industry Leadership Award; and
BCIT student Ashley Hu with the Andy Kesteloo Memorial Student Project Award.
For more information, visit http://www.cagbc.org/News/EN/2016/20160613_News_Release.aspx.