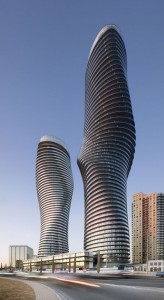 The Council on Tall Buildings and Urban Habitat (CTBUH) has pointed out 2012 was a particulary productive year for Canadian high-rise construction.
Nationally, Canada saw four buildings higher than 200 m (656 ft) built last year, which is historically the most the country has ever completed. Comparatively, two buildings over the 200-m mark were completed in the United States over the course of the year.
Toronto has been named the city most actively building tall structures in the Western Hemisphere and has the highest number of buildings over 150 m (492 ft) under construction, thanks to 15 projects. This number is expected to increase to 44 by 2015, which is a rise of 31 from 2005.
The study also notes findings including:
the expected number of buildings taller than 150 m across the country will be 74 in 2015—up 48 from 2005;
since 2001, the majority of buildings taller than 150 m have changed from being offices or hotels to completely or partially residential; and
Toronto has 51.8 per cent of Canada's tall buildings, but only makes up 14.5 per cent of the population.
Two of the tall buildings recently built in the Toronto area, Absolute Towers (Mississauga, Ont.), received the CTBUH Best Tall Building Americas Award this year. The residential towers standing 158 m (518 ft) tall are two of six structures over 100 m (328 ft) in the city.