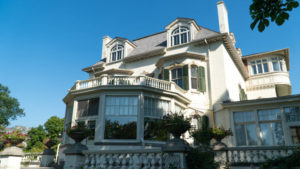 The City of Toronto, federal government, and Ontario's provincial government announced more than $2.9 million in joint funding to rehabilitate the historic Spadina Museum.
The Government of Canada is investing over $1.18 million through the Community, Culture and Recreation Infrastructure Stream of the Investing in Canada plan. The Government of Ontario is providing nearly $1 million, and the City of Toronto is contributing more than $790,000.
The project involves improving accessibility along the pathways leading from the street to museum entrances, meeting the Accessibility for Ontarians with Disabilities Act (AODA) requirements. Other work on the exterior of the building will include weatherproofing and restoration of existing windows and doors.
Work will also include improvements to the interior of the museum's garage, which include converting an existing office, kitchen, and car bay space into additional programming and rental space. New flooring, lighting, and a kitchenette will also be installed, while the second floor will be remodelled to accommodate increased programming. This includes renovating the existing staircase, washrooms, and kitchen facilities. Once complete, all patrons of the Spadina Museum, including those living with disabilities, will benefit from improved accessibility and better rental and programming space.
All orders of government continue to work together for the people of Ontario to make strategic infrastructure investments in communities across the province when needed most.