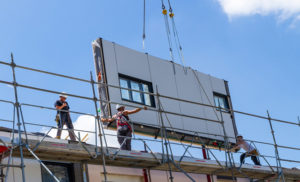 According to a new Efficiency Canada report, there is no pathway to achieving Canada's greenhouse gas (GHG) reduction commitments that does not include retrofitting the country's millions of residential and commercial buildings.
"At the current pace it will take 142 years to retrofit all low-rise residential buildings and 71 years to retrofit all commercial floor area," according to a press release from Efficiency Canada, a policy advocacy and research organization at Carleton University. "Current policies are focused on short-term results, and markets are segmented and uncoordinated.
The missing sauce for a booming retrofit market is an innovation-oriented approach, guided by an ambitious mission, according to the report.
The report titled "Canada's Climate Retrofit Mission" outlines a policy framework focused on triggering economies of scale and innovations to reduce costs, increase speed, and enhance value. On-the-ground market development teams will coordinate upgrades of several buildings at once, and introduce new retrofit models.
The report envisions Canada undertaking a mass retrofit of all buildings within a generation to eliminate fossil fuels, while also freeing up enough clean electricity resources to power 10 million electric vehicles.
"To meet climate goals, we need to see increases in scale and decreases in cost for building retrofits that are similar to what we have seen in wind, solar, and battery technologies," said author Brendan Haley. "A mission-oriented approach focused on transforming the retrofit process can accomplish this."