Canada investing $1.5M into green and inclusive community buildings
by Dave Flaherty | April 20, 2021 3:36 pm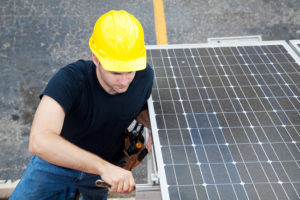 Catherine McKenna, Minister of Infrastructure and Communities, has announced the launch of a program across Canada to support green and inclusive community buildings through retrofits, repairs, upgrades, and new builds.
As part of the Strengthened Climate Plan[2], the program will deliver $1.5 billion in funding over the next five years to projects that improve the places where Canadians gather, access services, and connect with others in the community, while saving energy, cutting pollution, and offering thousands of jobs.
The program will invest in projects meeting a minimum threshold for energy efficiency improvements and increase social inclusion in under-served and high-needs communities across the country. Projects could include: energy efficient window installations in public libraries; the construction of an Indigenous cultural centre built to green specifications; and, other such projects that would reduce energy waste, improve ventilation, and contribute to inclusive community spaces.
Municipalities, provincial and territorial governments, and nonprofit and Indigenous organizations may apply for funding through the Green and Inclusive Community Buildings[3] program for projects retrofitting or building new publicly-accessible buildings that provide services to the public. At least 10 per cent of this funding will be allocated to projects serving First Nations, Inuit, and Métis communities, including Indigenous populations in urban centres.
"Community buildings are at the heart of Canada's towns and cities. Through the new Green and Inclusive Community Building program, we are investing $1.5 billion in energy efficient retrofits and net-zero new community buildings that will create good local jobs, tackle climate change, save money, and serve disadvantaged Canadians," McKenna said.
Endnotes:
[Image]: https://www.constructioncanada.net/wp-content/uploads/2021/04/Opener-8.jpg
Strengthened Climate Plan: https://pm.gc.ca/en/news/news-releases/2020/12/11/prime-minister-announces-canadas-strengthened-climate-plan-protect
Green and Inclusive Community Buildings: https://www.infrastructure.gc.ca/gicb-bcvi/index-eng.html#1
Source URL: https://www.constructioncanada.net/canada-investing-1-5m-into-green-and-inclusive-community-buildings/
---