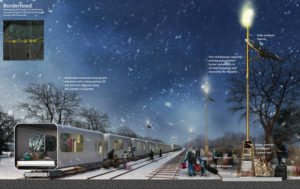 The University of Calgary's School of Architecture, Planning and Landscape (SAPL) has announced the three prize winners, honourable mentions, and finalists of its international design competition, CBDX: Borderlines.
The entries focused on complex and unexpected spaces like the nuclear borderlands of Fukushima, gerrymandering within U.S. district borders, protected natural spaces encroached upon by mining or logging, repurposing the ruins in Wadi Salib for communal benefit, lessening the divide between slum and town in Mumbai, and neutralizing the destruction wreaked by volumes of moving sand in the Great Lut Desert in Iran.
Submissions were reviewed and voted on by an international jury that included seven members from Massachusetts Institute of Technology (MIT), Harvard, Berkeley, Waterloo, University of British Columbia, Oslo's School of Architecture and Design, American University Beirut, and University of Illinois-Chicago. University of Calgary professor Alberto de Salvatierra chaired the jury panel.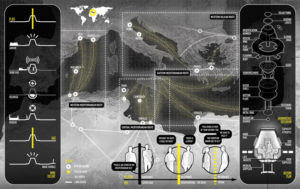 The three prize-winning entries addressed difficult topics.
Sonny Meng Qi Xu created 'Borderhood,' a design intervention for the U.S.-Canada border that includes retiring more than 8000 border monuments and replacing them with First-Aid Beacons designed to accommodate migrants and asylum seekers.
Joel Schülin and Charlotte Flügger from Bauhaus University Weimar deployed their designs to address the refugee crisis in the Mediterranean Sea. Their specially designed rescue buoys offer safety and act as memorial for the catastrophe.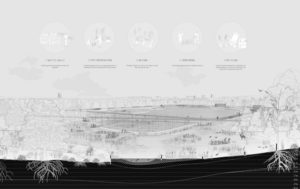 Mahla Ebrahimpour and Agnieszka Lula designed an 'Ecotone' for Poland's Murckowskil Forest, an ecosystem that has been significantly altered by mining. With mining operations ending, the team proposed setting new boundaries and interacting with the environment in a respectful way, using woven wattle walls that readjust the border between wetland and woodland and an elevated walking platform to give people a place to enter without harming the habitat.
The 25 selected entries are on display in a virtual exhibition for the month of September.