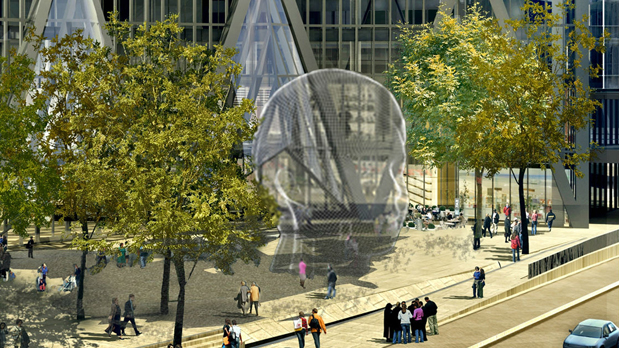 A new art sculpture designed by Jaume Plensa has been unveiled outside of The Bow building in downtown Calgary.
The 59-storey tower is the tallest office building in Western Canada and houses the headquarters for the country's energy corporations. The sculpture, dubbed "Wonderland," is a bent-wire portrait of a young girl's head, and stands 12 m (39 ft) high.
A jury choose the Spanish sculptor to complete the project out of 27 applications. Important factors included his recognition of winter's impact, ability to engage a wide audience, and his past public art installation successes.
Plensa's other public displays include Crown Fountain (Chicago's Millennium Park) and the Echo sculpture (New York City's Madison Square Park).
The Bow building site spans two city blocks and "Wonderland" is the focal point of the main plaza area. "Alberta's Dream," a bronze sculpture also designed by Plensa will be seen in the northwest area of the building's site.
The Bow was recently the subject of a technical article in the December 2012 issue of Construction Canada.