Canada's third-busiest air traffic hub, the Calgary International Airport, has completed a five-year, $2 billion expansion project, doubling current passenger service space with the addition of a 185,806-m2 (2,000,000-sf) facility. Added features include a new international terminal, 24 aircraft gates (with two intended for extra-wide body jets), an expanded runway (now the longest in the nation at 4.27 km [2.65 mi] long and 91 m [200 ft] wide), and a new customs area.
This will be the first terminal in North America to implement a call-to-gate system where passengers waiting to board gather in a single space rather than sequestered waiting areas. This system serves the dual purpose of constantly keeping recreation spaces (i.e. restaurants and retail) nearby as well as helping manage late gate changes.
The project team is aiming for a Leadership in Energy and Environmental Design (LEED) Gold certification—an objective being accomplished in part by the new space's sloped floors and ramps, which alleviate the need for elevators and escalators, and elements like geothermal heating and rainwater collection systems.
The crucial issue of airport safety is addressed with the use of vertical separations in the facility's interior. That is, outbound international operations are conducted on the facility's Level 2 and outbound U.S. operations on Level 3, with an interstitial level between both inbound varieties funneling passengers into the new customs area. According to Marco Mejia, vice-president of planning and engineering for the Calgary Airport Authority, this will prevent mixing of passengers with different security screening requirements.
Despite the new customs area's importance to the smooth functioning of the airport, it comprises a relatively small portion of the space's overall footprint. The Canadian Border Services Agency (CBSA) area takes up 9290 m2 (100,000 sf), and its U.S. counterpart takes 7432 m2 (80,000 sf). Regardless of size, however, the agencies' security requirements mean high sound transmission class (STC) ratings of 50 to 55 are necessary.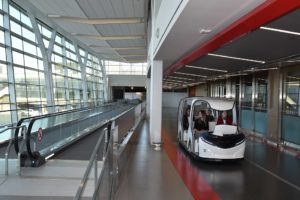 According to architect Rob Adamson—managing principal for Dialog, which worked on the project—test data for wall types achieving STC 55 is generally based on 25 gauge steel studs. Such tests suggest a wall assembly with two layers of 16-mm (5/8-in.) Type X drywall on each side should achieve the desired results. However, studs of the gauge Adamson describes are too light and not strong enough to achieve the airport's required structural performance and uphold doors and windows. Further, choosing studs of any lower gauge would cause a significant decline in acoustic performance, and poor stud spacing can have a similar effect.
"Tests are typically done on 0.6-m (2-ft) wide stud spacings," says Adamson. "But in a building like this where you have tall spans, even with heavier gauge studs you want them closer. We usually space our studs at 406 mm (16 in.) instead of 609 mm (24 in.)."
To circumvent these issues, as well as concerns of constructability, cost, and scheduling, the project team implemented a gypsum panel solution delivering the same performance as three layers of common Type X drywall. This saved time in completing the schedule-sensitive Customs area, allowed the assembly to meet the area's inherently high STC requirements, and reduced spending on both materials and labour. The final assembly featured two layers of Type X drywall on one side with one layer of the gypsum panel on the other, as well as channel stiffeners to prevent stud twisting and sealants and putty to further enhance acoustics.
Construction on the airport began in 2011, and the new facility opened at the end of October.