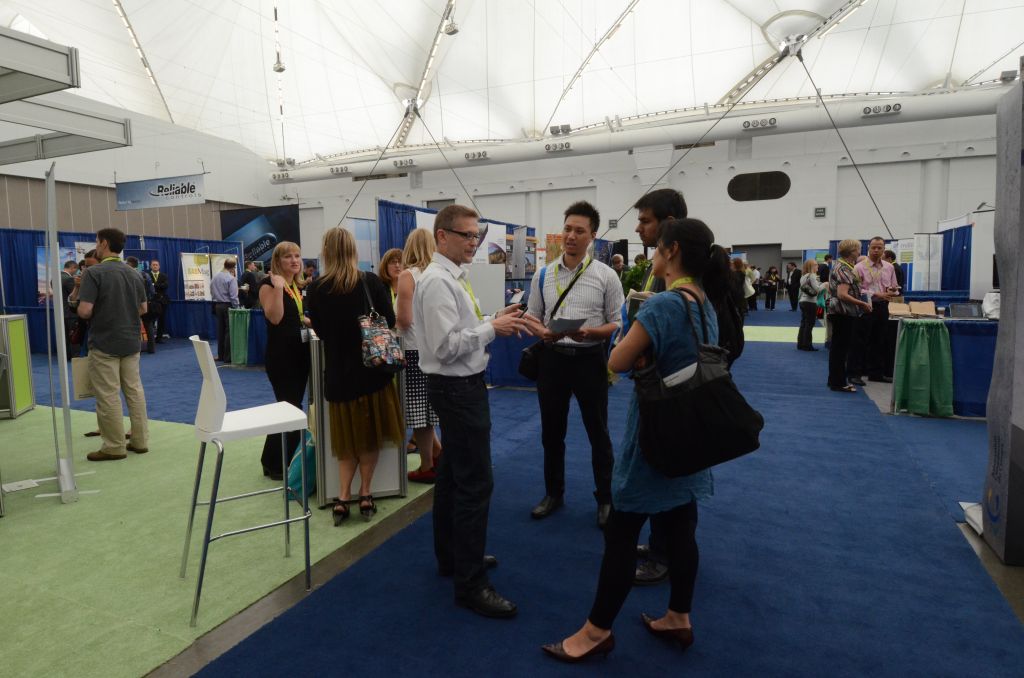 Earlier this month, Canada Green Building Council (CaGBC) held its national conference and expo at the Metro Toronto Convention Centre. The event, "Building Lasting Change," brought together sustainable design experts for networking, technical education, and product-sourcing.
This year's theme involved exploring the value of green buildings, addressing new information on both the business case and performance of high-performance projects. In addition to keynote speakers like architect Bruce Mau, there were seminars examining various aspects of green building creation and operations in Canada—from the newest incarnation of the Leadership in Energy and Environmental Design (LEED) program to neighbourhood development. Other talks included Reshape Strategies' Gerard MacDonald on "Beyond the Building Scale: LEED & Low-carbon District Energy Systems," as well as Dialog's Charles Marshall and John Lyons on using regenerative design principles in the York Region Forest Stewardship & Education Centre north of Toronto.
McGraw-Hill vice-president Harvey M. Bernstein, F.ASCE, LEED AP, discussed the results of a recent national study, "Canada Green Building Trends: Opportunities in a Growing Market." The online survey's results suggested commercial/institutional—and to a greater extent, residential—construction has been much more stable in Canada than the United States. For sustainable design, existing buildings and retrofits represented the biggest portion of current work, but neighbourhood development was touted as the next frontier. Major drivers for going green were cited as health impacts, reduced energy consumption, being the 'right thing to do,' and client demand. Canadian pension funds and institutions, in comparison to U.S. developers, are considered major proponents.
The report also found:
82 per cent of building owners and developers reported decreases in energy consumption in their green buildings compared to similar buildings;
68 per cent of building owners and developers reported decreases in water consumption in their green buildings;
median reduction in operating costs over five years for green buildings reported by the firms included in the research is 17 per cent; and
median payback for the investment in a new green building is reported to be eight years—a finding consistent with paybacks on studies McGraw Hill has conducted in the United States and globally.
The conference also gave the association a chance to honour design/construction professionals at its annual Leadership Awards ceremony. The CaGBC Lifetime Achievement Award was presented to Peter Busby, architect at Perkins+Will and founder and past chair of the council itself. He was credited with initializing the development of LEED in Canada, and for creating the Sustainable Design Initiative, which serves as a framework to make his firm a global leader in sustainable design. Also, the World Green Building Council Chairman's Award went to Ray Cole, a professor and former director of the University of British Columbia (UBC) School of Architecture and Landscape Architecture for his extensive work in net-positive buildings.
Other winners included:
Andy Kesteloo Memorial Student Project Award: Alison Anne Walker (for her Amity Alternative School project);
Academic Leadership Award: Rochelle Owen (director of the Office of Sustainability at Dalhousie University in Halifax);
Emerging Green Builder Award: Fin MacDonald (sustainability analyst at Morrison Hershfield);
Government Leadership Award: Alan DeSousa (mayor of Saint-Laurent and city councillor for the Ville de Montréal);
Volunteer Leadership Award: Colleen Kuruluk (manager, Manitoba Hydro's Power Smart Marketing Programs);
Chapter Leadership Award: Josée Lupien (president of Vertima and CaGBC's Québec Chapter);
Green Building Champion Award: Steve Kemp (MMM Group [formerly Enermodal Engineering], International Building Performance Simulation Association); and
Industry Leadership Award: Darryl Neate (sustainability director, Oxford Properties Group).
Additionally, at the conference CaGBC announced its partnership with Canadian Standards Association (CSA) for supporting initiatives related to environmentally responsible building materials, along with provide discussion on a U.S. Green Building Council (USGBC) report citing Canada as the largest international market for LEED outside of the United States.
Next year's event will take place in Vancouver from June 2 to 4.