CaGBC announces 2019 green building award winners
May 30, 2019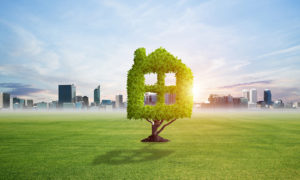 Canada's leading green building projects and innovators were honoured at the Canada Green Building Council (CaGBC)[2] leadership awards gala earlier this month. The ceremony held in Vancouver, was part of CaGBC's national conference and showcase Building Lasting Change[3].
The 2019 Leadership and Green Building Excellence Awards recognizes individuals and organizations demonstrating outstanding industry leadership and who have made significant contributions to CaGBC's mission and goals in advancing green building in Canada.
"This year's award winners are indicative of the passion, commitment, and innovation that drives our industry to keeping moving forward in delivering change on the ground," says Thomas Mueller, president of CaGBC.
Here are the 2019 Leadership Award winners:
Daniel Pearl, co-founder of L'OEUF[4], won the Lifetime Achievement Award;
Cheryl Fryers, professor at Southern Alberta Institute of Technology[5], won the Inspired Educator Award;
Public Services and Procurement Canada[6] won the Government Leadership Award;
Guillaume Martel of Provencher_Roy Architectes[7] won the Ed Lim Technical Leadership Award;
Natalie Irwin, director of stakeholder engagement for Efficiency Canada[8], won the CaGBC Volunteer Leadership—Chapter award;
Lisa Westerhoff of Integral Group[9] won the Green Building Champion Award;
Roland Charneux of Pageau Morel et associés inc. [10]won the Green Building Pioneer Award;
Afaf Azzouz of Stantec[11] won the Emerging Green Leader Award; and
Bianca Dahlman, designer of the Weave Cultural Centre, won the Students Leading Sustainability: Andy Kesteloo Memorial Project Award.
Winners of the 2019 Green Building Excellence Awards are:
SoyaOil Coatings Canada Inc[12]. won the CaGBC Green Building Product of the Year Award;
Prairie Architects Inc.[13], office, based in Winnipeg, Manitoba, won the Tenant Improvement award;
Parkdale Landing[14], housing retrofit in Hamilton, won the Inspiring Home award;
École Curé-Paquin[15] in Saint-Eustache, Québec, won the Zero Carbon Award;
Western University[16]'s engineering building in London, Ont., won the New Construction award; and
4711 Yonge Street in Toronto won the Existing Building award.
Endnotes:
[Image]: https://www.constructioncanada.net/wp-content/uploads/2019/05/Opener-12.jpg
Canada Green Building Council (CaGBC): http://www.cagbc.org/
Building Lasting Change: https://www.cagbc.org/blc2019https:/www.cagbc.org/blc2019
L'OEUF: http://www.loeuf.com/en/
Southern Alberta Institute of Technology: https://www.sait.ca/
Public Services and Procurement Canada: https://www.tpsgc-pwgsc.gc.ca/comm/index-eng.html
Provencher_Roy Architectes: https://provencherroy.ca/en/
Efficiency Canada: https://www.efficiencycanada.org/
Integral Group: https://www.integralgroup.com/
Pageau Morel et associés inc. : http://www.pageaumorel.com/en
Stantec: https://www.stantec.com/en
SoyaOil Coatings Canada Inc: https://www.soyaoilpaint.com/
Prairie Architects Inc.: https://www.prairiearchitects.ca/
Parkdale Landing: https://indwell.ca/programs/parkdale-landing/
École Curé-Paquin: https://www.cssmi.qc.ca/nouvelles/ecole-cure-paquin
Western University: http://welcome.uwo.ca/index.html
Source URL: https://www.constructioncanada.net/cagbc-announces-2019-green-building-award-winners/
---